When the upcoming Flash movie hits movie screens next fall, there will be a familiar face playing the Caped Crusader, as it's been confirmed that Ben Affleck will appear in the movie as Batman. Of course, the Oscar-winning writer for Good Will Hunting played Batman in both Batman vs. Superman: Dawn of Justice and Justice League, both directed by Zack Snyder, as well as appearing briefly in David Ayers' Suicide Squad movie. But his own Batman movie never materialized.
But Snyder did enlist Afflect to once again don his cape and cowl for some reshoots for his just-released director's cut of Justice League, which has been incredibly well received this week. His new scenes involved interacting with Jared Leto's Joker.
According to Comicbook.com, citing an interview the Justice League director did with MTV News, Snyder doesn't have the access to Warner Bros.' DC movie plans anymore, but he is thrilled to see Affleck continue in the role in some form.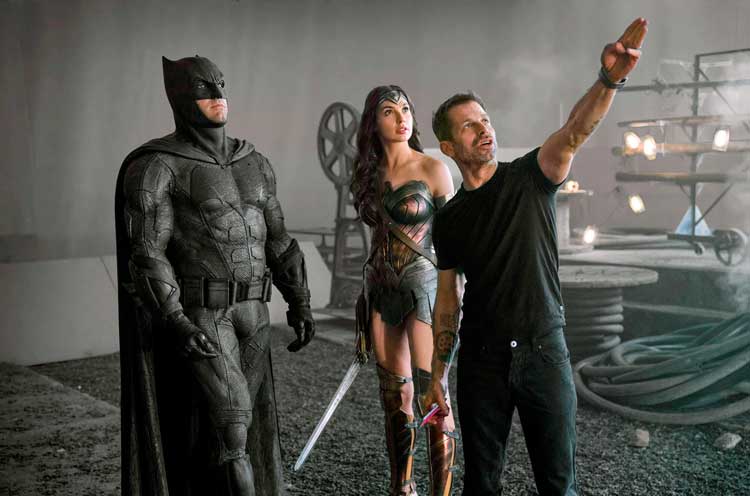 "I guess from my point of view I think that that's cool," Snyder said. "I mean, I don't know what else to say except, yeah, that's an amazing idea to, you know—the butterfly on a wheel concept of time getting distorted is cool, and I'd be interested to see what that means. I mean, I think that in a lot of ways what we've done is kind of undeniable now, as far as the stamp it's put on the DC world. So, yeah."
The new Flash film will feature Ezra Miller reprising his Justice League role as the fast super hero.
Director Andy Muschietti talked about the Flash film and Affleck's role in it at DC FanDome last year.
"He's a very substantial part of the emotional impact of the movie. The interaction and relationship between Barry and Affleck's Wayne will bring an emotional level that we haven't seen before," he said. "It's Barry's movie, it's Barry's story, but their characters are more related than we think. They both lost their mothers to murder, and that's one of the emotional vessels of the movie. That's where the Affleck Batman kicks in. I'm glad to be collaborating with someone who has been on both sides of the camera, too. He understands."
Affleck won't be the only former Batman making an appearance. Michael Keaton, who played Batman in the 1989 Tim Burton-directed Batman movie and its sequel, Batman Returns, is also going to appear. Since the Flash movie deals with time travel and the multiverse, having multiple Caped Crusaders make sense.
See Ben Affleck as Batman in Zack Snyder's Justice League now streaming on HBO Max.