Marvel's What If…? episode 6 starts during the events of the first Iron Man movie. The Watcher, appearing more vivid than ever, sets the stage of Afghanistan. This is the start of the origins of Tony Stark aka Iron Man.
Tony Stark is in the country promoting his latest weapons with the US military. His transport is attacked, however, and he tries to flee the fight. He hides and witnesses a missile landing right next to him, labeled as Stark Industries. This would be the moment when he is injured.
What If…? Episode 6 Spoilers
In What If…? episode 6, instead of taking the explosion, Tony is saved by Erik "Killmonger" Stevens chucking the missile. Killmonger then helps Tony escape from the rebels and avoid capture. As a result, Tony Stark never becomes Iron Man.
At his press conference upon his return, Tony has a new plan for his company. Witnessing Americans killed, he vows to create better weapons. He announces he's bringing Killmonger on board as the new chief security officer.
A reporter questions what Killmonger was doing in Afghanistan. Killmonger then reveals that he was sent to that particular province to kill Tony Stark. The hit he was ordered to carry out was sent by Obadiah Stane. He reveals all of this to the public.
In case nobody believed him, Killmonger reveals all of this info and posts it online. Obadiah is revealed as a schemer, is fired, and punched out by Happy Hogan.
Later at a party, Tony speaks with Killmonger about him becoming his new COO. Killmonger is semi-reluctant but agrees. Pepper Potts, however, is having serious doubts.
Unsure of Killmonger, Pepper connects with Rhodes for more info. She learns about Killmonger's past acts of assassinations and serving in the Navy. Despite all this information, she's still not sure what it is Killmonger is seeking from Tony Stark.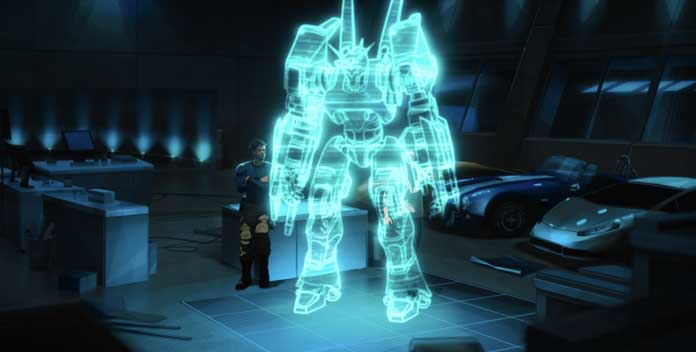 Tony brings Killmonger down to his garage and weapons lab. The topic of fathers comes up and they both admit to having lost their patriarchs. They briefly talk about how weapons didn't help the matter.
But then a new topic arises. Killmonger brings up his idea for combat drones. Tony, intrigued, offers to help for having his life saved.
Killmonger brings up his plans for a robot called the Liberator. Tony is a bit perplexed by the design. Killmonger responds he likes anime and Tony retorts that this will be the most expensive Gundam model.
Production begins on the Liberator. Tony and Killmonger build it together. The tests are going slowly with failures and rebuilds.
The two spitball ideas. Tony mentions an arc reactor for the power source but quickly shoots it down. Killmonger then mentions they could use some Vibranium. The problem is that Killmonger only has a small amount.
To get more, Tony decides to make connections with Ulysses Klaue, a black market dealer. Pepper voices her concerns but they are not as well heeded. Killmonger then suggests they use Rhodes as cover for their travels.
Killmonger Kills Black Panther
In What If…? episode 6, Rhodes meets with Klaue in his factory to acquire the Vibranium. Just as Klaue reveals his wares, his factory comes under attack. The attacker is Black Panther subduing the guards and soldiers.
When Black Panther approaches Rhodes, he states that his business is not with the soldiers. Black Panther tells Rhodes he intends to take the Vibranium back where it belongs.
Before Rhodes can figure out Black Panther's intentions, Killmonger attacks them. He uses one of Tony Stark's sonic tasers to cripple Rhodes and Black Panther.
With Black Panther killed Killmonger takes Panther's claws for himself. He tries them out and enjoys the power. Rhodes awakens and asks Killmonger why he's doing this.
Killmonger states that he intends to fight back against his oppressors. Rhodes tries to stress that you need to be part of the system to change it. Killmonger refuses, stating he can burn it down. He then stabs Rhodes, killing him.
Klaue emerges from the shadows, revealing that he's been working with Killmonger. They load up the product and leave. Rhodes and Black Panther return to their homes in body bags.
Killmonger confronts Tony after the events with a weapon for him. Tony reveals that he knew what went down with Rhodes and Klaue. Tony then locks down the building to trap Killmonger.
Killmonger doubts that Tony can defeat him. Tony, however, has been working on the Liberator robot. Having melted down Killmonger's Vibranium ring for power, the robot now functions properly.
Killmonger engages in combat with the Stark Industries drone. The fight is tough since Tony programmed the robot to match Killmonger's moves. Killmonger eventually destroys the robot.
Immediately after having won, Killmonger launches a spear through Tony's shoulder. An injured Tony speaks briefly with Killmonger about their plights. Killmonger states that they're fighting different battles. He then kills Tony.
Killmonger meets with Thaddeus Ross, Pepper, and Happy at the murder scene. He tries to stress the Wakandans are behind this murder. Pepper isn't buying it.
Ross, however, wants to speed up the production of the Liberators. Despite Pepper's objections, production proceeds. An army of Liberators is developed, led by Killmonger.
Killmonger brings the Liberators to Klaue who is excited by the army. Klaue then leads Killmonger to the concealed border of Wakanda. Having got what he wanted, Killmonger kills Klaue.
Killmonger then approaches Wakanda with the gift of Klaue's body as proof of his loyalty. He meets with King T'Chaka (before his death in Captain America: Civil War) and Queen of Wakanda. The King connects with Killmonger about their family connections.
Wakanda Goes To War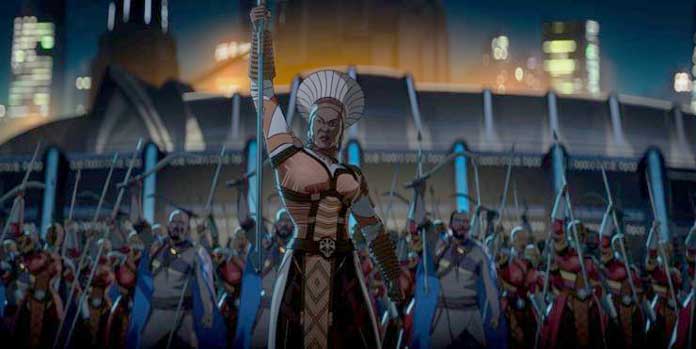 What If…? episode 6 continues with Killmonger stressing that war is coming to Wakanda. The Liberators he programmed are on their way to the city. Killmonger suggests they open the electric barriers to weaken the robots by subduing satellite connections.
Killmonger is able to convince the King and Queen to go ahead with this plan. He brings up vengeance for the death of T'Challa and they agree to his strategy. The forces of Wakanda assemble for a battle at nightfall.
The Liberators approach Wakanda. Ross monitors the situation from a drone command station. The King orders the shields to open.
The Liberators enter Wakanda, stunning Ross. The shields are then closed. Just as Killmonger said, the Liberators have no contact with the drone facility. The robots shut down.
The King is pleased and states that Killmonger has a place in Wakanda. Killmonger, under his breath, says he wants more. He pushes a button on a remote device. The robots reactivate.
Killmonger convinces the Wakandans that Stark must've built a backup transmitter into the robots. The Wakandan warriors then engage the robots in combat. Even the Queen gets involved in the fight.
Killmonger leads the charge, going into battle on a rhino. Okoye is also present during the fight and is saved by Killmonger. Soon, the battle is won.
Having won the heart of Wakanda, Killmonger requests to become the next Black Panther. The King, impressed by Killmonger, agrees to let him take part in the vision ceremony. He takes the drink and is transported to a spiritual plain.
In his vision, Killmonger meets the spirit of T'Challa in panther form. T'Challa then transforms into his human form. He asks if it was worth it.
Killmonger states he did what he had to for revenge. T'Challa counters that suffering can't be conquered with more suffering. Killmonger stresses that power is all that matters.
T'Challa once more counters. He states that unearned power can be volatile. Sooner or later, it will consume your soul, even if not in this life.
Back in America, Ross is planning a bigger assault on Wakanda. Pepper tries to speak out but her voice is not heard.
Pepper will then be approached by the young Wakandan scientist Shuri. Shuri reveals information proving Killmonger murdered Tony and T'Challa. The two then vow to find a way for the truth to be revealed, even in the face of war.
What If…? episode 6 ends with The Watcher observing. He states that heroes are never gone so long as there are those that still fight.
What If…? episode 6 and all current What If episodes are now streaming on Disney+ with new episodes premiering on Wednesdays.