So far WandaVision has truly been different from previous Marvel films and TV shows. Its first two episode's black and white throwback style from the 50s and 60s with some mysterious events (in color) has fans wondering where it'll go from there. With Wanda's surprisingly fast pregnancy in episode two, WandaVision's episode 3 continues with possibly introducing two Young Avengers into the MCU.
The Marvel Cinematic Universe seems to be assembling a new Avengers team. With shows like Hawkeye and Ms. Marvel and movies like Ant-Man and the Wasp: Quantumania and Doctor Strange in the Multiverse of Madness, the MCU could be setting up some form of the Young Avengers.
Spoiler Warning for WandaVision Episode 3 below.
Wanda's pregnancy advances rapidly in the third episode starting out a few months pregnant. By the end of the episode, she's full term and goes into labor. Her and Vision debate over names for their child — Tommy or Billy.
While going into labor, Vision runs off to get their doctor and Geraldine helps with delivering the baby. When Vision returns, the baby has already been born, but Wanda doesn't stop there. She continues to push. They didn't expect twins, but fans did.
The episode reveals both babies are boys and take the names Tommy and Billy. Just like in the comic books.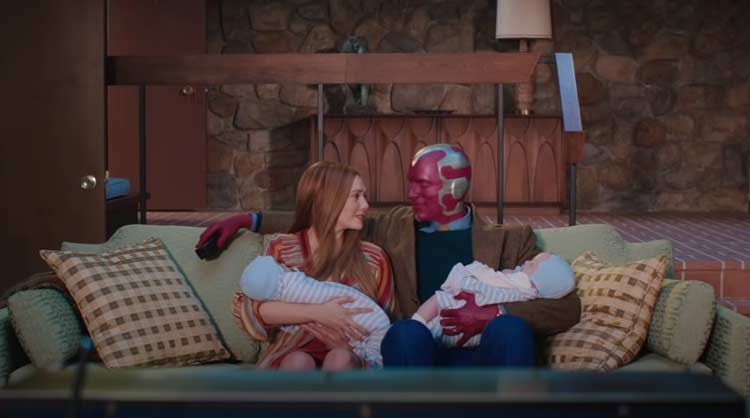 Billy Kaplan aka Wiccan and Tommy Shepherd aka Speed were introduced in the Marvel Comics after the event Avengers: Dissassembled. It's when Scarlet Witch tore her team apart using her chaos powers. Wiccan and Speed track down Scarlet Witch while also finding out they were her children in that storyline. It was a retcon to Vision and Scarlet Witch's babies as "soul shards" of the demon villain, Master Pandemonium.
Wiccan and Speed continue to have major roles in the Marvel Universe. Perhaps they'll soon be part of the Marvel Cinematic Universe in a bigger way. Hopefully, we get to see them develop as the series continues.
WandaVision episode 3 is now streaming on Disney+.
Featured Image: Marvel Studios
Source: Disney+
ADVERTISEMENT
---
This post has affiliate links, which means we may earn advertising money if you buy something. This doesn't cost you anything extra, we just have to give you the heads up for legal reasons. Click away!