On Sept. 24, Sony will release Venom: Let There Be Carnage, the sequel to the 2018 hit Venom, but the studio is providing an early look to fans through an action-packed and informative trailer. Not much is known about the film yet, but Tom Hardy obviously returns as reporter Eddie Brock, who after bonding with alien Symbiote, became the fan-favorite Marvel character known as Venom.
Venom: Let There Be Carnage Trailer Features Woody Harrelson's Carnage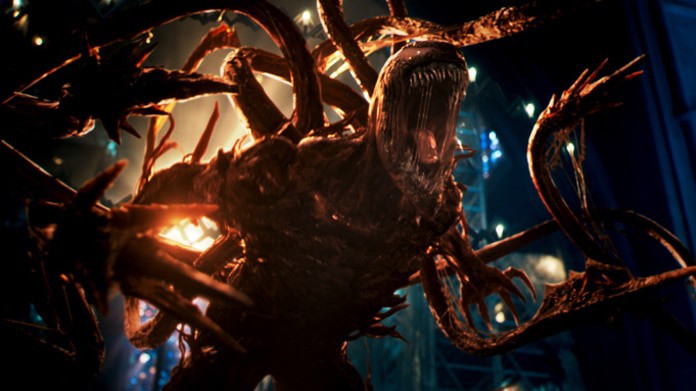 This time around, he's joined by Woody Harrelson, who plays Cletus Kasaday, the iconic Spider-Man villain known as Carnage. The character's appearance was alluded to in a post-credit scene of the first Venom movie.
The Venom: Let There Be Carnage trailer provides a fun glimpse of Venom and one of comic book fans' favorite Spider-Man villains of all time doing battle.
Andy Serkis directs the film. The actor/director has a boatload of experience with motion capture technology, having starred as Gollum in The Lord of the Rings and Caesar in the Planet of the Apes reboot.
The director recently spoke with Comicbook.com about the upcoming film. "I'm super excited about it. Again, it's not something I can particularly talk about right now because we're saving it for when everybody can go and enjoy it in the cinema," he said. "I don't want to blow it or talk about it too much before then, but I've had a ball working on that film. It's been great. [It's] another bunch of brilliant actors, and it's headed up by another keen SAS man, Tom Hardy [Laughs]. I hope you won't feel disappointed. It was a real pleasure working on it."
Venom: Let There Be Carnage was initially scheduled for last October, but was pushed to this fall. While Sony's second Spider-Man offshoot, Morbius, has been delayed a couple of times over the course of the last year, things still seem to be on track for Venom: Let There Be Carnage to meet its target date and be released in theaters on Sept. 24. The trailer even features a Spider-Man and Avengers Easter egg.
This post has affiliate links, which means we may earn advertising money if you buy something. We have to inform you for legal reasons. If viewing on mobile, scroll down to bottom of page and exit mobile version to view relevant Amazon products.