The stars of The Walking Dead came out in full-force at this year's New York Comic Con, as showrunner Angela Kang, franchise chief content officer Scott M. Gimple, and beloved cast members Norman Reedus (Daryl), Melissa McBride (Carol), Jeffrey Dean Morgan (Negan), Paolo Lazaro (Princess) and Khary Payton (King Ezekiel) took part in a virtual panel.
Though fans are obviously sad by the news that Season 11 will be the final one for the iconic show, Kang promised there was still plenty of story to come during the six bonus standalone episodes of Season 10 and the expanded last season, which airs through 2022.
And there's more after that. According to SyFy.com, there was lots of talk about the planned spin-off for the characters of Daryl and Carol during the lively discussion during the New York Comic Con cast panel.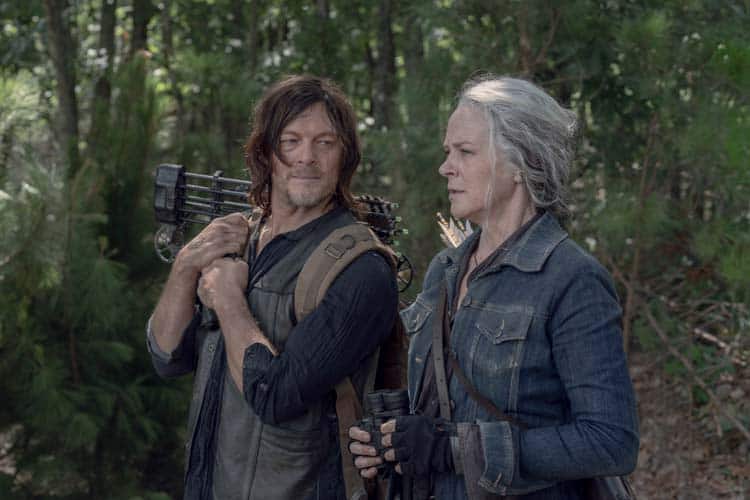 "I think it's great that people are getting excited and have something to look forward to," McBride said about what's to come in the new series. "It's like coming out of prison."
Reedus previewed that the show would find the long-time friends venturing out into the greater world on their own. "You have to re-adapt to people. Who's this mess and who's this crazy woman? 'Hi, I'm Daryl and I'm Carol!' They're gonna be like, 'What is this?' I'm curious to see how they get along with the outside world."
As for current storylines, Payton and Lazaro tried to be coy about the big cliffhanger that recently aired, which will most likely be the catalyst for the introduction of the Commonwealth—but both said they are looking forward to what's to come.
Reedus is looking forward to getting the chance to do more scenes with Morgan now that Negan is starting to be an ally.
"I'm excited for Daryl and Negan to work together more," he said. "He's finding family with our group now."
The current season of The Walking Dead is now airing on AMC. You can check out the cast panel moderated by AMC Talking Dead's Chris Hardwick below:
Featured Image: AMC
Source: SYFY WIRE
ADVERTISEMENT
---
This post has affiliate links, which means we may earn advertising money if you buy something. This doesn't cost you anything extra, we just have to give you the heads up for legal reasons. Click away!