There is still a little over a month before The Walking Dead Season 10 returns with its extended episodes. The stretched out season will feature more incoming guest stars like Terminator 2's Robert Patrick.
We already got a sneak peak at Maggie's metal-masked fighter buddy, Elijah, played by Okea Emend-Akwar. Then Jeffrey Dean Morgan's real life wife, Hilarie Burton Morgan, will play Lucille as the cancer-stricken wife of Negan.
No, Robert Patrick will not be playing the liquid metal terminator model T-1000. Though that would be nice against the walkers. Patrick plays Mays.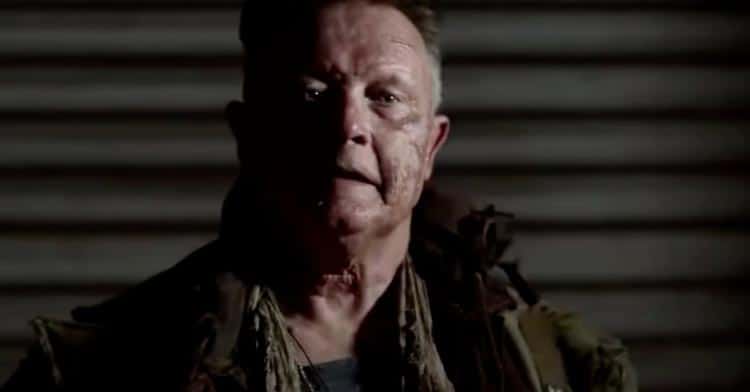 Mays is an original character. He's a rough-looking apocalypse survivor crosses paths with Father Gabriel (Seth Gilliam) and Aaron (Ross Marquand) in episode 1019 — "One More".
The three did a virtual table read ahead of the March 14th episode premiere.
Mays asks Gabriel why he still wears the clerical collar. Gabriel answers, "Probably for the same reason you keep a room full of bibles. It's a light in an otherwise very dark world, and a reminder of the goodness still within us. Things like love, mercy, forgiveness."
The pile of discarded bibles is "toilet paper," Mays explains. "I like the thin pages, and I can find 'em everywhere." Taking the slight in stride, Gabriel retorts, "Maybe instead of wiping your ass with it, you should read it."
"Oh, I've read it, cover to cover. That's why I wipe my ass with it," Mays says with a smirk. "It must be hard preaching about something you don't believe in." When Gabriel insists he is a believer, Mays tells him with world-weariness, "Evil people aren't the exception to the rule, they are the rule. There's nothing left in this world but thieves and murderers."
"There's still goodness," Gabriel responds, "if you look for it."
Mays leans in, pressing him: "Well, who you trying to convince, Father? Me, or you? You're so close."
Some of these incoming guest stars will join the cast heading into season 11's 24-episode final season. For now, we'll see them next month when The Walking Dead Season 10 returns February 28th.
We'll have more to look forward to as the TWD Universe keeps expanding into more stories and spin-offs.
Featured Image: FX Mayans MC
Source: TWD Youtube
ADVERTISEMENT
---
This post has affiliate links, which means we may earn advertising money if you buy something. This doesn't cost you anything extra, we just have to give you the heads up for legal reasons. Click away!