On August 22, the eleventh and final season of The Walking Dead will premiere on AMC. The 24-episode season will be broken up into 3, 8-episode, batches that will continue into winter/spring of 2022. Entertainment Weekly recently released first look images from TWD's season 11. Check them out below.
Angela Kang, TWD showrunner, previously told EW that after the scaled-down season 10 bonus episodes due to coronavirus safety protocols, The Walking Dead season 11 will "get to come back more of our usual scope and scale that people are used to." Kang also promised "tons of zombies and lots of action and fun and intrigue, and locations we've never seen."
The Walking Dead First Look Images Reveal Zombified Military Personnel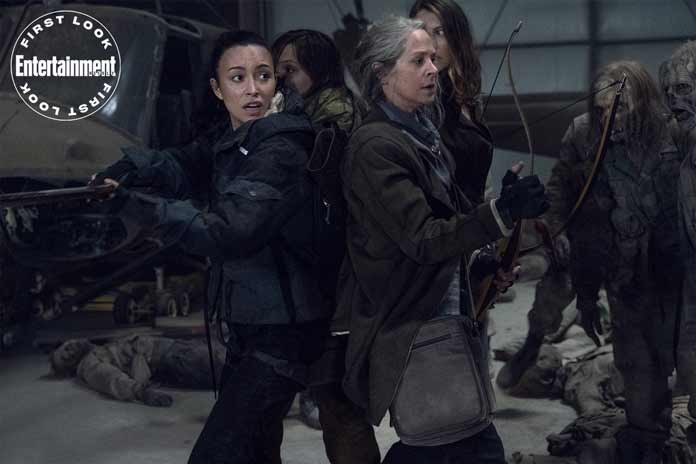 The Walking Dead first look images seem to support Kang's promise of more zombies and action. The first image shows Maggie (Lauren Cohan), Carol (Melissa McBride), Rosita (Christian Serratos), and Lydia (Cassidy McClincy) fighting off what seems to be zombified soldiers. It might be inside a some kind of military compound based off the helicopter in the background. Can this area be somehow connected to the Civic Republic Military? We don't see an CRM logos around.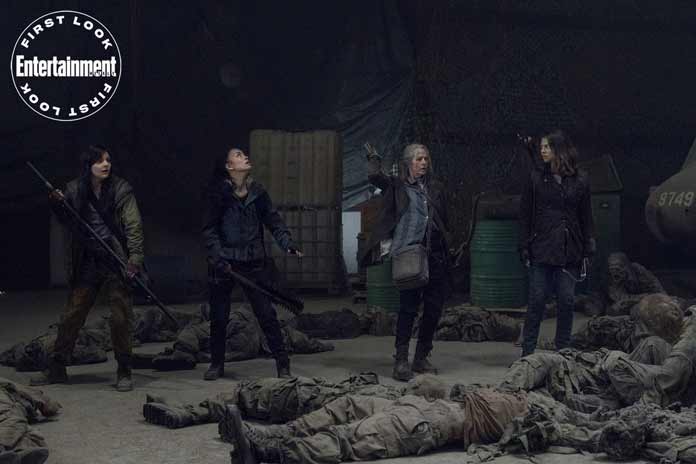 The second image gives us a wider angle of the hangar and it looks like the ladies were able to dispose the zombies, unless there are more coming in from outside. We can also see drums and containers for fuel in the background, which seems to hint the fearsome foursome were on some kind of supplies run.
Negan Looks Like His Back In Action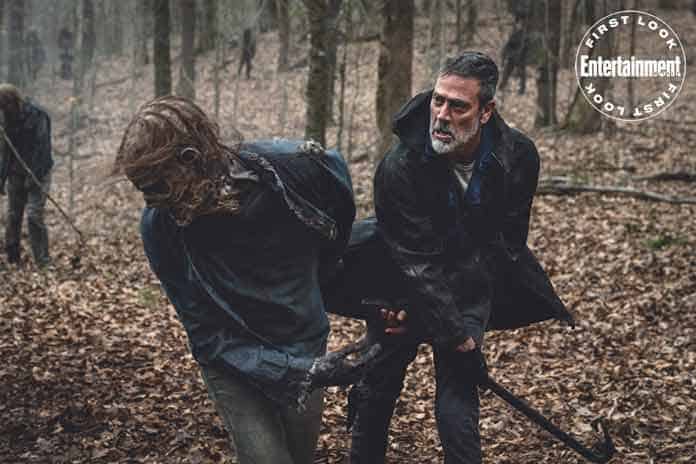 The last image shows Negan getting back to the swing of things as he bashes a zombie with a crowbar. Would be better with Lucille. The Walking Dead season 10 ended with Negan's tragic backstory as he relives his past with his sick wife, Lucille — played by real life wife Hilarie Burton. He refuses to to be left out by himself in a cabin now that Maggie is back. Negan returns to Alexandria and grins signaling he's back for good. Kang pointed out to EW, "In the grand tradition of Negan, you never know exactly what's going on when he's thinking."
Kang said the tension between Negan and Maggie is far from over. "There's a big, important story that has to do with Maggie and Negan," promises Kang. "And I think it should be fascinating. Those two are really, really great across from each other." It may be quite some time before Maggie can forgive Negan for bashing her husband's head over and over.
The Walking Dead first look images did give us some incite to the upcoming final season, but we'll have to wait until August 22 to see what is really going down.