Fans of The Walking Dead have been eagerly awaiting the new six bonus episodes that producers announced as part of what it's dubbing Season 10C, and the first episode is thankfully almost here.
On Feb. 28, AMC will premiere the first of the episodes which were all shot during the pandemic. According to Comicbook.com, the episode that starts things off will feature both Maggie (Lauren Cohan) and Daryl (Norman Reedus) dealing with the pieces in the aftermath of the Whisperer War.
Titled "Home Sweet Home," the episode finds Maggie and her now 8-year-old son Hershel Rhee (Kien Michael Spiller) back in Virginia after years away from their friends. Some of the first people they see are Daryl and Judith Grimes (Cailey Fleming), but things take a strange turn when Mrs. Glenn Rhee comes face to face with his killer, Negan (Jeffrey Dean Morgan).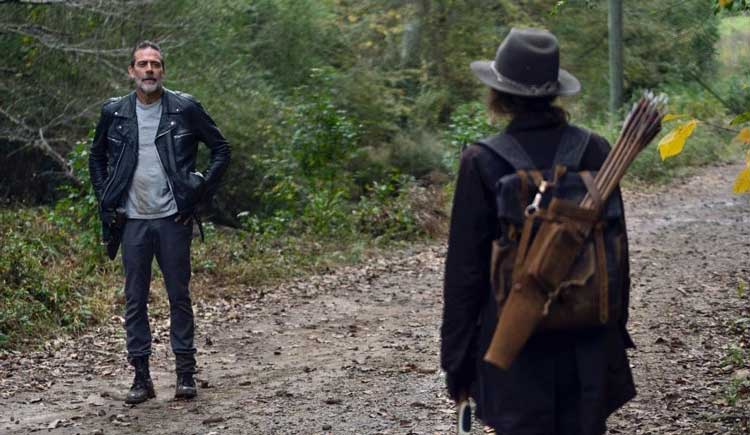 The episode also finds Daryl and Kelly (Angel Theory) journeying back to where Maggie has been living, with her friends Elijah (Okea Eme-Akwari) and Cole (James Devoti) along as well.
Maggie will tell Daryl about the reasoning behind her long-lost absence and more about Georgie's (Jayne Atkinson) mysterious key to a future, but she's obviously hiding something more. Scripted by Corey Reed and Kevin Deiboldt, the scene highlights the humanity of the people surviving in a world of the dead.
These are the type of scenes that fans can expect from the six bonus episodes as showrunner Angela Kang has revealed the stories will be poignant and also limit the number of characters in each episode in an effort to stay as safe as possible while shooting during the pandemic.
Other bonus episodes will feature Daryl in the years after Rick Grimes (Andrew Lincoln) disappeared, and the heavily anticipated Negan prequel airing April 4.
Once the six bonus episodes air, The Walking Dead will return for its 24-episode 11th and final season sometime in fall. The show is currently filming now.
This post has affiliate links, which means we may earn advertising money if you buy something. We have to inform you for legal reasons.