The James Gunn directed The Suicide Squad movie released its first trailer this morning and it already looks like it'll be a lot of fun. The film is a follow-up to director David Ayer's 2016 Suicide Squad film. It's not technically a reboot or a sequel, but it does have a few characters returning from its predecessor.
There's definitely some Guardians of the Galaxy vibes going on here. With both The Suicide Squad and Guardians directed by Gunn, we're hoping Gunn brings that same fun and humor from the first GOTG movie. So far, it looks like it from The Suicide Squad trailer.
The new DC film features a massive cast. We'll see the return of Viola Davis as Amanda Waller, Margot Robbie as Harley Quinn, Joel Kinnaman as Colonel Rick Flag, and Jai Courtney as Captain Boomerang from the 2016 version. Joining them are Idris Elba as Bloodsport, John Cena as Peacemaker, Nathan Fillion as T.D.K., Pete Davidson as Blackguard, Michael Rooker as Savant, David Dastmalchian as Polka-Dot Man, Steve Agee as King Shark, Daniela Melchior as Ratcatcher 2, Flula Borg as Javelin, Mayling Ng as Mongal, Peter Capaldi as The Thinker, Alice Braga as Sol Soria, and Sean Gunn as Weasel.
"You want to go to work with people who jump out of bed every day and want to go to work," Cena said in a previous interview with Collider. "Gunn is the epitome of that. He cares so much about what he's doing and I think especially when he's put in a position to write, develop, and do this by his rules essentially. He chose the franchise. He kind of dictated his terms and now he's really betting on himself and I hope everybody enjoys seeing it as much as we're enjoying making it because it's awesome."
The Suicide Squad's King Shark Is Voiced By Sylvester Stallone
OK shark coming your way! The new THE SUCIDE SQUAD Is thundering your way! August 8!#jamesgunn #The suicide squad #warnerbrotherspictures #Margot Robbie #Johncena https://t.co/G9SkrxPOme

— Sylvester Stallone (@TheSlyStallone) March 26, 2021
King Shark is literally a humanoid shark that wears pants. Yes. He wears pants. He's one of the stranger characters from DC Comics and it makes perfect sense for Gunn to add him to the roster of eccentric characters. It also makes perfect sense that Gunn asked Sylvester Stallone to voice King Shark. Stallone played Stakar in Guardians of the Galaxy Vol. 2 also directed by James Gunn. Stakar is a Ravager captain.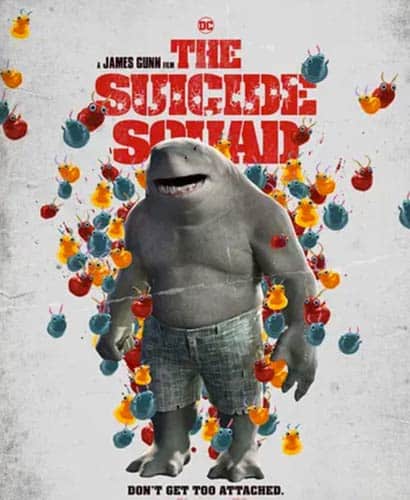 Stallone's King Shark seems to have the natural instinct of eating people and ripping them apart as seen in The Suicide Squad trailer rather than using his words. We only heard a couple of short lines from Stallone, but we'll probably hear more during the movie.
See Sylvester Stallone's King Shark and The Suicide Squad in the red band trailer below: