The Mandalorian surprised fans with an astonishing 15 Emmy nominations for the 2020 award year! The live-action series created by Lucasfilm and Disney+ snagged Emmy nominations for categories including Outstanding Drama Series to costumes to cinematography to special effects to Outstanding Fantasy/Sci-Fi.  
Lucasfilm president Kathleen Kennedy was beyond grateful for the nominations! She stated, "I am so proud of everyone who contributed to make these Emmy nominations possible and am thankful to be working with such a talented group of people."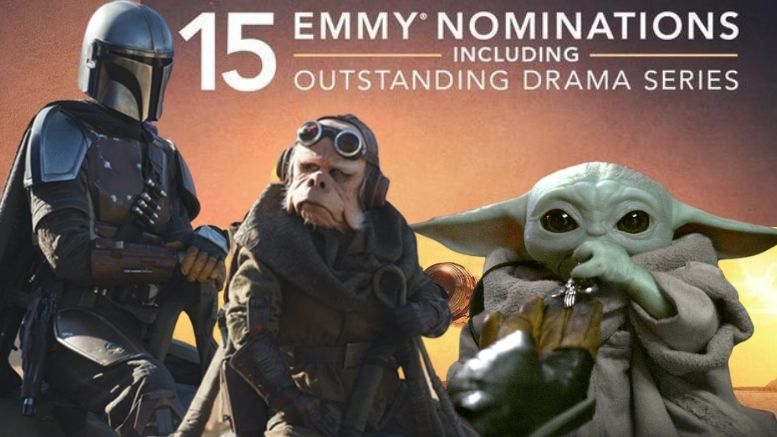 Kennedy added, "The creative brilliance of Jon Favreau and Dave Filoni coupled with the incredible innovations of ILM and Skywalker Sound truly made our first Star Wars live-action series groundbreaking. Much gratitude to Bob Iger for launching a platform that inspired an enormous rush of creativity among Lucasfilm storytellers, artists, and engineers. I can't wait to see 'the Child' in his tux!"
Jon Favreau, the executive director of The Mandalorian said, "It's such an honor to be recognized amongst so many wonderful shows…We had a great time making it and being nominated is an unexpected bonus. Congratulations to the incredibly talented cast and crew on The Mandalorian for their hard work, and to our partners at Disney+ and Lucasfilm. Thank you to the Television Academy from all of us for embracing the show." Below is a list of the full nominations.
Outstanding Drama Series 
Outstanding Children's Program 
Outstanding Character Voice-Over Performance 
Outstanding Guest Actor In A Drama Series 
Outstanding Production Design For A Narrative Program (Half-Hour) 
Outstanding Cinematography For A Single-Camera Series (Half-Hour) 
Outstanding Fantasy/Sci-Fi Costumes  
Outstanding Single-Camera Picture Editing For A Drama Series (two nominations)
Outstanding Prosthetic Makeup For A Series, Limited Series, Movie Or Special 
Outstanding Music Composition For A Series (Original Dramatic Score) 
Outstanding Sound Editing For A Comedy Or Drama Series (Half-Hour) And Animation 
Outstanding Sound Mixing For A Comedy Or Drama Series (Half-Hour) And Animation 
Outstanding Special Visual Effects 
Outstanding Stunt Coordination For A Drama Series Limited Series Or Movie 
If youShare your thoughts. Do you watch The Mandalorian? What are your favorite episodes?