SPOILER WARNING
Who was the mystery character at the end of season two's first episode? Could it be true? The Mandalorian could be bringing back an iconic character from the Star Wars universe after 37 years.
But first, let's rewind to 2019. Before the world-wide pandemic and all things seem to be fine. Disney+ debuted The Mandalorian in November. The premiere's final shot broke the internet and sent Star Wars fans all over the world in shock with the introduction of Baby Yoda. Then it went on to get 15 Emmy nominations.
The Mandalorian director and writer, Jon Favreau is at it again by teasing a mystery character at the end of season two's premiere. But first, let's go back to the inspiration behind the hit Star Wars spin-off show.
George Lucas featured the iconic bounty hunter, Boba Fett, for the first time on the big screens in Empire Strikes Back. Fett made a deal with the Empire to follow Han Solo and crew hoping to lure Luke Skywalker closer to Darth Vader. As dangerous of a hunter he was, his quick demise in Return of the Jedi was quite underwhelming when blind Han Solo accidentally knocked him into a sarlac pit.
The Mandalorian's season two premiere spent most of its time on Tatooine. The episode gave us more hints that Boba Fett may be returning. First they teased us with Timothy Olyphant's faux Mandalorian character, Cobb Vanth wearing the iconic armor. Like us, many fans got a sense of nostalgia seeing that green helmet highlighted with red lines. Vanth said he traded for the helmet and armor from Jawas and since wearing the armor, he became some sort of small town sheriff like in the westerns.
What does this mean for The Mandalorian going forward?
Well, after the combined efforts of the Mos Pelgo folks and Tusken Raiders to take down the krayt dragon that's been terrorizing the town and nearby land, Din Djarin and the child ride off into the distance. And watching them is the mystery character. A close up reveals actor, Temuera Morrison who portrayed Jango Fett, Boba Fett's father, in the Star Wars prequel trilogy. Rumors circled around during season two production that Morrison will play Boba Fett.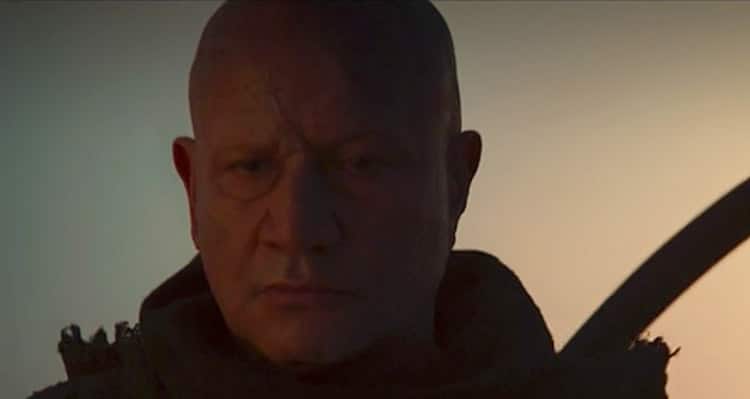 If that is, and most likely be, Boba Fett, what has he been doing for the past 5 years? (Time passed from the events of ROTJ). How did he get out of the sarlac pit?
We'll have to wait and see if Boba Fett will be a vital character this season. Perhaps we'll see him put on that iconic armor once again and be back into bounty hunting. After all, this is the way.