In The Falcon and the Winter Soldier season six finale, Bucky (Sebastian Stan), Sam (Anthony Mackie), and John (Wyatt Russell) find closure for some situations and more questions on others. Below is the The Falcon and The Winter Soldier finale recap.
What Happened With The Flag Smashers?
The Flag Smashers, led by Karli Morgenthau (Erin Kellyman), have been working all season toward establishing a new world order. They want to take down the GRC and give supplies and shelter to everyone who's been displaced since the Blip. In "One World, One People," the Flag Smashers break into a council meeting to stop the vote for the Patch Act. The Patch Act is a government mandate that would reestablish world borders and send people back to their original countries.
Does Sam Wilson Return As Falcon?
Hearing about this, Sam comes to help as a backup – but not as the Falcon. Instead, we see our first glimpse of Sam Wilson as Captain America, and it is a sight to behold. Decked out in a new red, white, and blue suit complete with wings and shield, Sam brings a refreshed and welcomed new look to the role. Bucky Barnes and Sharon Carter join and the three work to stop the Flag Smashers from blowing up an armored car filled with government officials.
John Walker makes his reappearance with his new homemade Captain America shield and fully fueled by the super-soldier serum. He has arrived strictly for Karli Morgenthau and to seek revenge for Hoskins' death.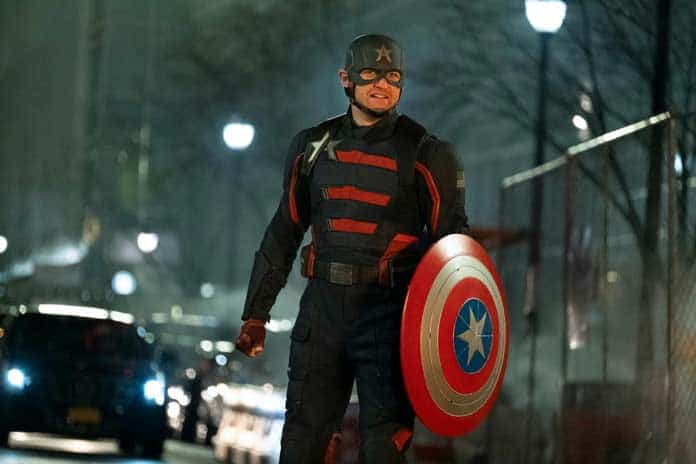 As the epic battle continues, we get to see Sam save a falling truck of officials, Bucky and Walker tag team against the Flag Smashers, and Sharon Carter (Emily Vancamp) takes action as well when she confronts Morgenthau. However, Sharon is revealed to be the mysterious Power Broker. The only two people who know her true identity are Baltroc – a recruited agent – and Morgenthau. However, Sharon kills both of them before her secret can be revealed.
In a powerful scene, Wilson takes Morgenthau's body to the police and first responders. She's pronounced dead, and the government officials thank Sam for saving them. However, Sam has something else in store for them. In a speech that resonates not only in the MCU but also in our own universe, Sam reminds the government that they are in a position of power to help the people. He convinces the GRC to reconsider the Patch Act and to, instead, assist the already displaced people of the world. In doing so, we can truly become "one world, one people."
How Does The Falcon and The Winter Soldier Season End?
The show wraps up its loose ends by showing Bucky finishing his amends. He visits Yori Nakajima, father of a young boy Bucky killed as the Winter Soldier. Bucky comes clean to Nakajima and in doing so, is able to start fresh. Sam visits Isaiah Bradley and his grandson, Eli. He takes them out to the Smithsonian to see the monument of Isaiah that Sam had put in in order to memorialize and honor him. Meanwhile, De Fontaine gives Walker a new suit and renames him U.S. Agent.
At the very end, Bucky shows up at the docks in Louisiana where the Wilson family is celebrating together with all of their neighbors. Bucky and Sam spend time with family and friends, relaxing for the first time in a long time. The episode ends with the two walking off together, smiling and content.
Is There a Mid-Credits Scene?
In a mid-credits scene, Sharon Carter gets a full pardon and rejoins the CIA. Upon leaving, she makes a phone call and reveals that she access to multiple government secrets and technology that they can sell to anyone willing to buy.
While wrapping up loose ends from the season, the finale of The Falcon and the Winter Soldier also opens up multiple other questions. What will become of U.S. Agent? Now that Sam is Captain America, will we see someone else pick up the mantle of Falcon? Is Sharon Carter going to be exposed as the Power Broker?
All episodes of Marvel Studios' The Falcon and the Winter Soldier are available now for streaming on Disney+.