The Falcon and the Winter Soldier Episode 1 ICYMI
The Falcon and the Winter Soldier premiered on March 19, 2021, as Marvel fans everywhere logged into Disney+ to see what was next for Sam Wilson and Bucky Barnes.
What Has Sam Wilson Been Up To?
The episode opens with Sam Wilson diving out of a plane without a parachute, reminiscent of Steve Rogers. This is one of the first times we really get to see Sam center-stage as he takes down a criminal organization on his own.
We meet Joaquin Torres: Sam's coworker who's been tracking an organization called the Flag Smashers. This group thinks the world was better during The Blip, when Thanos wiped out half of the universe's population. Sam tells Joaquin to keep an eye on them as he heads back to Washington to donate Captain America's shield to the Smithsonian in Steve's honor.
What About Bucky Barnes?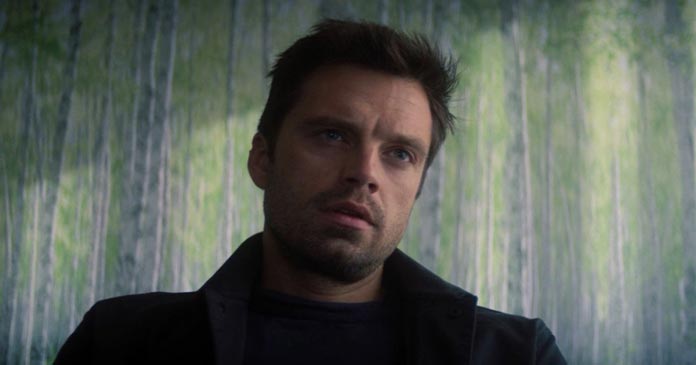 Meanwhile, in order to rid himself of guilt from the orders he followed as the Winter Soldier, Bucky has been attending court-mandated therapy sessions in New York. He doesn't seem keen on the idea, but he attempts to make amends. He even reaches out to the father of a young boy he murdered while under HYDRA's control.
Do We Meet Other Characters?
Sam travels back home to Louisiana to see his sister, Sarah (Adepero Oduye). She tells Sam they're selling the family boat in order to save money, but Sam's not happy about this. He and Sarah head to the bank to try and procure a loan, but the banker turns down the request, and the Wilson siblings leave defeated.
Who Are the Flag Smashers?
Joaquin gets an alert on his phone that the Flag Smashers are planning an event. He sees citizens run to the center of the town square and pull matching masks from large duffel bags. As a bank is robbed, Joaquin is caught in the chaos while police scramble to find the culprit. Joaquin sends Sam a video of the incident and they discuss the possibilities of who it could be.
 How Does The Falcon and The Winter Soldier Episode 1 End?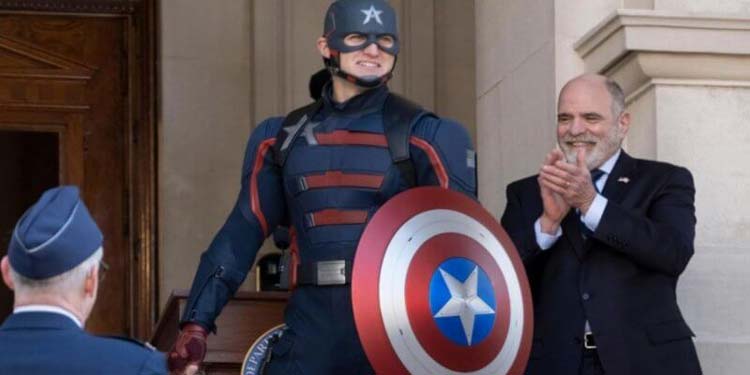 As Sam watches the video, Sarah tells him to turn on the news. Sam watches a new Captain America (Wyatt Russell) dressed in a uniform similar to Steve Rogers and holding the shield being introduced to the world. Sam's face is a mix of emotions ranging from guilt to anger. As the credits run, we are left with more questions. Who is this new Captain America? Has Bucky Barnes seen the announcement? Who are the Flag Smashers?
You can catch episodes of Marvel Studios' The Falcon and the Winter Soldier streaming on Disney+ now.