The Mandalorian Season 2 finale was both satisfying and nostalgic. Its shocking reveal left many Star Wars fans in awe… and some in tears. The season's final episode also had a big post-credit scene revealing a spin-off series featuring the iconic bounty hunter, Boba Fett. The Book of Boba Fett will debut in 2021 and now reports confirm it will be separate from The Mandalorian Season 3.
According to Variety, Star Wars on the Disney+ streaming service will play "copycat" to the success of the Marvel Cinematic Universe. Now three additional Star Wars series will spin-off from The Mandalorian. The creative duo of Jon Favreau and Dave Filoni will continue to executive produce the shows — Ahsoka, Rangers of the New Republic, and The Book of Boba Fett. They will all co-exist in the same timeline as The Mandalorian and will eventually build into a climactic event.
Director Robert Rodriguez will be brought back in to helm the Fett series, but it's unknown as to how many episodes he'll actually do. Rodriguez directed Chapter 14 "The Tragedy" episode of The Mandalorian.
The Book of Boba Fett wasn't officially announced during Disney Investor Day 2020 like the other upcoming Lucasfilm projects. So the post-credit scene sort of left fans a little confused. Rumors were saying The Mandalorian Season 3 may be The Book of Boba Fett. That rumor can be laid to rest now after confirmation that the Fett series is separate, but will still have the same creative team.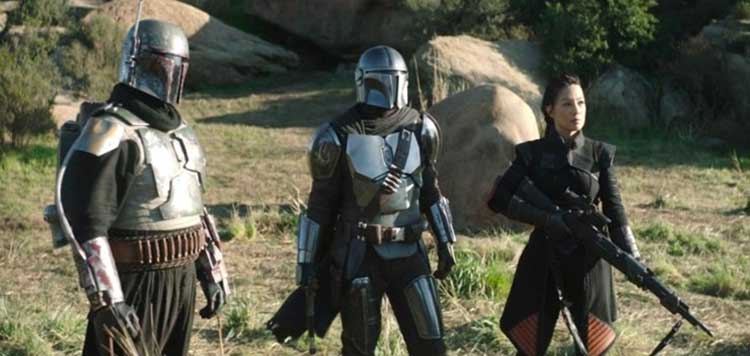 This is great news for everyone wondering about Grogu's future after Din Djarin sent him off with Luke Skywalker. Perhaps Grogu will leave his training to help Din. Sound familiar?
"Well, I'm definitely not going to share any guesses, because I know," said director Bryce Dallas Howard in an interview with Digital Spy. "But what I will say is that, for me, the joy of working with Baby Yoda is that, yes, it's an intoxicatingly cute, adorable being, but you can only play that note so many times, right? That was a wonderful part of the journey for Mando and Baby in Season One, but in Season Two, there's an opportunity for the character of Baby – who, by the way, is not a baby; who is, according to human years, fully middle-aged. But to understand: 'OK, who is this being?' And it's not just binary."
The Book of Boba Fett and The Mandalorian Season 3 are both scheduled to be released on Disney Plus in 2021. It's also been reported we may see the Fett series before seeing Mando and, hopefully, Grogu again. Temuera Morrison will reprise his role as the title character and Ming-Na Wen returns as Fennec Shand. She will also voice her animated counterpart in The Bad Batch series.