New movie posters for The Batman starring Robert Pattinson as the Caped Crusader and Zoë Kravitz as Selena Kyle a.k.a. Catwoman were released this morning. Twitter Movies dropped the official images and fans are liking what they see.
First one is a close-up on Pattinson's Batman. Great detail to the eye shows this version of the Dark Knight will be full of emotions. The second official movie poster for The Batman reveals more of the Bat and the Cat relationship as seen in the most recent movie trailer.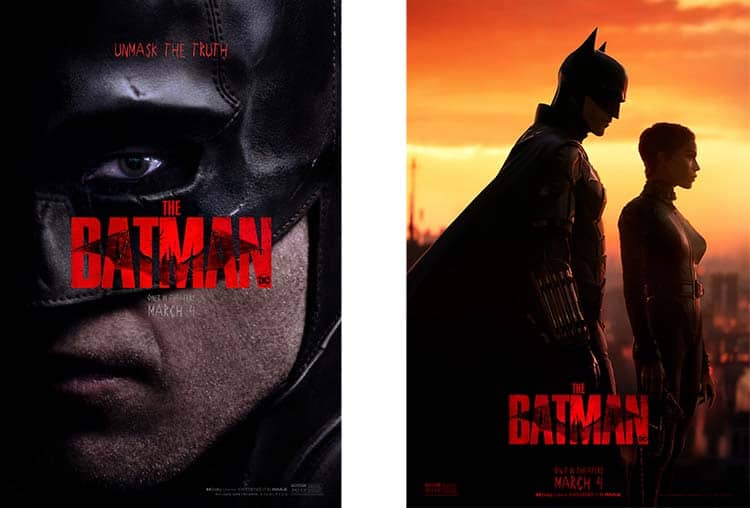 Warner Bros. has really hit the ground running with its marketing for The Batman as the spring release is drawing near. DC and Warner Bros.' biggest competition has seen some really big success in the box office. Both are hopeful that The Batman is the best chance at hitting the $1 billion box office mark this year.
The Batman will have a different take on the Dark Knight from previous versions and fans are anticipating seeing how Robert Pattinson will bring his take on Bruce Wayne and Batman. Pattinson didn't quite get the fan support when he was first announced he'd be wearing the iconic cowl. That all changed when fans saw The Batman teaser during DC FanDome in 2020 and the following trailers. But he still has big shoes to fill (or should we say big bat shoes) after the Dark Knight trilogy with Christian Bale and Ben Affleck's Batman.
During DC FanDome last year, The Batman director Matt Reeves sat down with Pattinson and Kravitz to talk about the upcoming DC film.
"For some reason Batman just always stood out as one of the major characters of the 20th century that so many people connected with on such a deep level – and for so many different reasons," Pattinson said. "The first conversation with Matt [Reeves] I had about it, I just knew there was something radically different from anything we'd seen in Batman movies before… Right from the beginning there's a desperation to him. He's really working out this rage. All the fights seem very personal… He wants to inflict his kind of justice. He's just compelled to do it. There is no other option."
"I felt we'd seen a lot of origin stories," Reeves continued. "We'd seen things go further and further into fantasy, and I thought 'Well one place we haven't been is grounding it the way that 'Year One' does. To come right into a young Batman. Not be an origin tale but refer to his origins and shake him to his core."
"That great thing about this world is the grey area," Kravitz added. "Catwoman really wants to fight for those who don't have someone else to fight for them. And that's where Batman and her really connect."
See Robert Pattinson and Zoë Kravitz when The Batman releases in theaters only March 4, 2022.