Cobra Kai's fourth season has introduced Terry Silver as the latest villain for the hit Netflix show. It's a move similar to the recent revival movies that often surprise us with the return of a character we haven't seen in some time. For many fans of The Karate Kid, this was quite the surprise.
Terry Silver first appears early in the season as an aged man in a rich setting. His appearance doesn't make much sense until he gets a call. John Kreese is on the other end of the line, asking for Terry's help with the Cobra Kai dojo.
His appearance may not mean much for those who haven't seen The Karate Kid. After all, he first appeared in The Karate Kid Part III. That film came out 32 years ago and wasn't exactly the most notable entry of the series.
Just Who Is Terry Silver?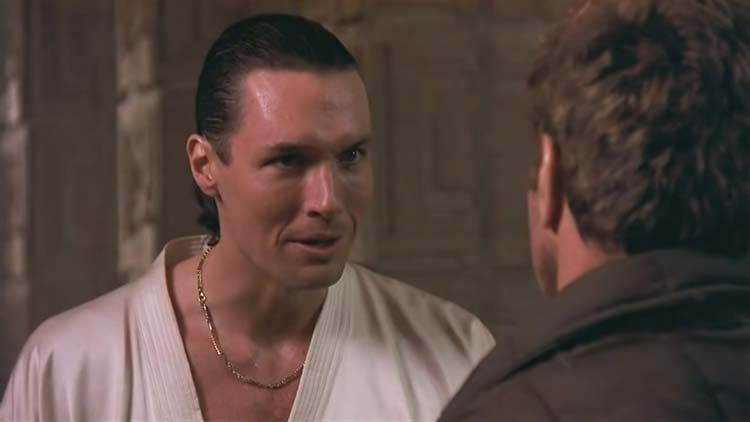 In 1989's The Karate Kid Part III, the initial plan was to have John Kreese as the villain. He was going to be seeking his revenge after defeat. However, since Martin Kove was a bit busy, he wouldn't be the big bad of the film.
This led to the villain of Terry Silver, played by Thomas Ian Griffith in his debut role. He's an old friend of Kreese with a relationship that goes back to Vietnam. He also owns a part of the Cobra Kai dojos.
Silver becomes the villain when he takes on the role of the central leader when Kreese leaves town. Griffith played up this role as the scummy rich dude who is motivated by greed. This is accented by his giant house, lavish luxuries, and favoring of dumping toxic waste into the environment.
What is Terry Silver's Deal?
Why exactly does Silver want to get revenge on LaRusso and Miyagi? Well, it's more or less by an association with humiliation. In the third Karate Kid movie, he hires karate champ Mike Barnes (Sean Kanan) to get revenge on Daniel in the All-Valley Karate Tournament.
Daniel, however, is urged by Miyagi to decline the tournament since he has no stake in such a match. Daniel only agrees to the match after a convoluted series of events. Let's just say it involves a bonsai store and a trap of a tide pool.
Silver actually trains Daniel and his methods are crueler. He favors desire, devotion, and discipline more than anything else. Essentially, Silver is the evil teacher who pushes Daniel to the dark side.
But, wait, doesn't Silver want Daniel to lose? Indeed he does, which explains why he injures Daniel during his mean training. Well, it kinda explains it.
Daniel eventually realizes that Silver and Kreese are working together to sabotage the fight. This leads to the rather ridiculous reveal where the two villains practically cackle. Of course, both of them are defeated and Cobra Kai is humiliated further as they deserve.
How is Silver in Cobra Kai?
It's been a long time since the 1980s and The Karate Kid has gone in a much different direction. Cobra Kai has proven to be a more mature and engaging picture than the previous movies. Or, at the very least, less cartoonish than The Karate Kid Part III.
This growth is very much reflected in the return of Terry Silver. Sure, the show doesn't shy away from his past, even providing flashbacks. But he is certainly going to be more of a clever schemer in his greed than just being a laugh riot of a bad guy.
So should you watch The Karate Kid Part III before the fourth season of Cobra Kai? Not really, considering most of Terry's backstory is filled in with the show. It may also be a plus to not think of him so much as the cell phone wielding joker in a steam room gloating about his evil richness.
See Miyagi-Do and Eagle Fang Karate join forces against Kreese and Silver in Cobra Kai Season 4 is now streaming on Netflix.