Justice League's Ezra Miller was revealed to be the surprise casting in CBS All Access's upcoming limited-series remake of Stephen King's The Stand.
According to Entertainment Weekly, Miller is set to play Donald Merwin Elbert or better known as Trashcan Man. The schizophrenic and pyromaniac character who joins the forces of the Dark Man, Randall Flagg, in Las Vegas. Alexander Skarsgard (True Blood) plays Flagg. The Dark Man is creating an evil empire following a worldwide plague.
Asides from his obsession for fire, Trash also has an intuitive and love for weapons. A perfect opportunity for Flagg to use against the good forces, which are rallying in Boulder, Colorado led by Mother Abigail (Whoopi Goldberg).
Trashcan Man is a pretty crucial character in King's storyline. If you're familiar with the 1978 novel, Trash has devastating implications. We won't spoil it for the folks who haven't read the book.
Showrunner Benjamin Cavell said, "It's so different from any way that anyone has seen Erza before, and he's so committed to it. He's a huge fan of the book and had fallen in love with this character and wanted to play it for a long time. On our first call, he described Trash as 'the embodiment of pyromania.' The only thing this guy was capable of, and the only area in life he was comfortable, were with the explosives and instruments of fire and destruction."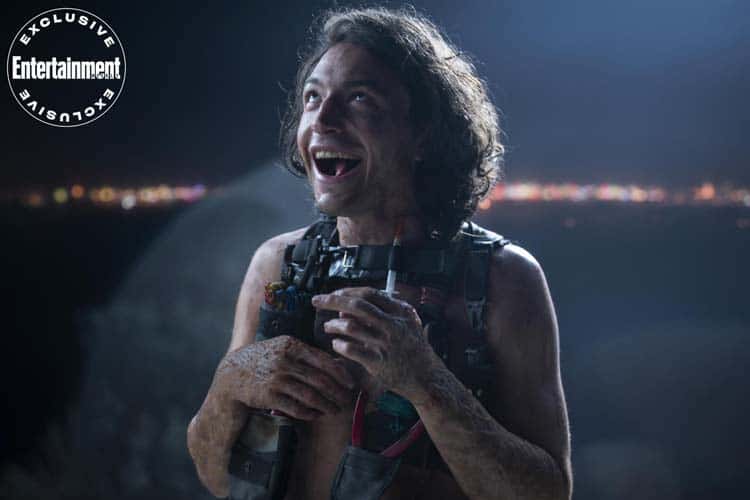 Image Credit: Entertainment Weekly
Miller wears "basically no clothes except for his extensive tactical gear, so he's just kind of in underwear and combat boots…the character has to be right on the edge of over-the-top." adds Cavell.
In an email to Entertainment Weekly, Miller explains his interpretation of the character saying, "What excites me is the deception of behavior and appearances. Trash is the underestimated and misinterpreted amongst us."
Miller being cast for Trash was a complete secret until now. The role wasn't even revealed with the rest of the cast. There were rumors that musician Marilyn Manson would play Trash after he announced in an interview with Revolver that he recorded a song for the series. Matt Frewer (Max Headroom and Orphan Black) played Trash in the 1994 ABC version.
Ezra Miller is currently reprising his Credence Barebone role in Fantastic Beasts 3 and the scarlet speedster is coming back for Andy Muschietti's The Flash. We'll see Miller's Flash sooner in the upcoming Zack Snyder's Justice League on HBO Max sometime in 2021.
Stephen King's The Stand premieres on CBS All Access on December 17, 2020. It'll be a 10-part miniseries, which also stars James Marsden as Stu Redman, Odessa Young as Frannie Goldsmith, Jovan Adepo as Larry Underwood, Greg Kinnear as Glen Bateman, Amber Heard as Nadine Cross, Henry Zaga as Nick Andros, Brad William Henke as Tom Cullen, Owen Teague as Harold Lauder, Irene Bedard as Ray Brentner, Nat Wolff as Lloyd Henreid.
This post has affiliate links, which means we may earn advertising money if you buy something. This doesn't cost you anything extra, we just have to give you the heads up for legal reasons.