Ms. Marvel Episode 4 begins with Kamala (Iman Vellani) and her mother, Muneeba (Zenobia Shroff), on a plane to Karachi, Pakistan. Her mom, still committed to punishing Kamala for the incident at the wedding, is hoping they can form a truce on their trip for Sana, Kamala's Nani. Kamala, however, is reluctant to accept such terms.
Kamala Travels To Pakistan in Ms. Marvel Episode 4
When they land in Karachi, Kamala and her mom are greeted by Sana. After some brief catching up and family banter, Kamala and her mother get a taxi to Nani's home. On their ride, Kamala enjoys the dazzling night views of the city.
After arriving at Sana's home, Kamala explores the spacious estate. In a quiet moment, Kamala finally speaks with Sana about the bangle while also learning about her heritage. All that Sana can reveal is that the vision of the train is important and will eventually be revealed if she seeks to solve the mystery.
Kamala has a dream that night of the train. She awakens to her family stressing how its important to visit and catch up with everyone. Muneeba especially stresses this point as she did not come all the way to Pakistan to stay at Sana's house.
Muneeba brings Kamala out to a restaurant where they meet up with other family members. Kamala has some awkward exchanges where Muneeba once more embarrasses her. Kamala tries to ignore it but finds herself accidentally eating food much too spicy for her liking.
Ms. Marvel episode 4 continues with Kamala exploring the city, visiting street merchants and historic spots where refugees from India once came. She tries to convince her local family to give her a tour to show her the train station. Unable to convince them, she asks for directions from a local merchant.
Kamala Fights An Assassin But Meets A Ally
Kamala arrives at the train station looking for clues relating to her vision. While there, she puts on her mask to hide her identity after noticing the surveillance cameras. While looking at some graffiti, Kamala is attacked by a masked assassin with red masks and daggers.
Kamala fights off the assassin while he questions her true identity. After some battle banter, the attacker mistakes Kamala for a Clandestine. Realizing she's not one of them, he decides to help her instead as they flee the station from the local police.
The masked individual, revealing his name is Kareem (Aramis Knight), takes Kamala to a secret room at a local restaurant, revealing himself to be a part of a group known as the Red Daggers. He leads her through the decadent halls of their underground base of operations. He then takes off his mask as Kamala removes her own disguise as well.
Kamala then meets the Red Dagger leader in Ms. Marvel episode 4, Waleed (Farhan Akhtar), who gives her lunch while speaking about their organization. He stresses that they're committed to protecting humanity from unseen forces such as the Djinn. He also reveals everything he knows about the Clandestine and how they exist on top of our own dimension.
With an elaborate display, he gives Kamala a peek at Aisha's homeworld, learning of the Veil of Noor that separates us from them. If the bangle is acquired by the Clandestine, they could shatter that veil and take more power. It is for this reason that the bangle must be hidden.
The Clandestines Attack Kamala in Ms. Marvel Episode 4
Meanwhile, at the Supermax prison where the Clandestines are being held captive, they stage a prison break. Despite the advanced energy weapons of the DODC, they still manage to break their constraints. They also make the choice to leave behind Kamran (Rish Shah), as Najma (Nimra Bucha) feels she can't trust him anymore.
Back in Pakistan in Ms. Marvel episode 4, Kamala talks with Sana who reveals more of her history and how their culture has become distorted over the years. Kamala then asks Sana if they'll ever figure out the mystery of the bangle. Sana says there's no rush and gives her a reassuring hug, stressing that she should still be a teenager and have fun.
As night falls, Kamala hangs with Kareem and the other Red Daggers, choosing her cool name among the group as "sloth girl." She eats with them around a campfire. She's reluctant to eat the food, fearing it's spicy, but still tries it.
Back at Sana's home, Muneeba starts cleaning up after Sana and questioning what she keeps in her home. Trying to be a good guest and daughter, Muneeba insists on giving her mother a foot massage. Sana doesn't enjoy it.
Muneeba then approaches the question of asking if Sana wants to come back with her to America. Sana snickers at why Muneeba would want that after she so wanted to get away from her. Muneeba then unloads that her frustrations were with the neighborhood and her mother's wild stories, stressing how she never felt like she had a mom.
Kamala arrives home and has a talk with her aunt over toffee. Kamala finds it hard to eat and her aunt stresses she needs strong teeth for such sweets. They share a laugh.
Kamala Starts Her Training with the Red Daggers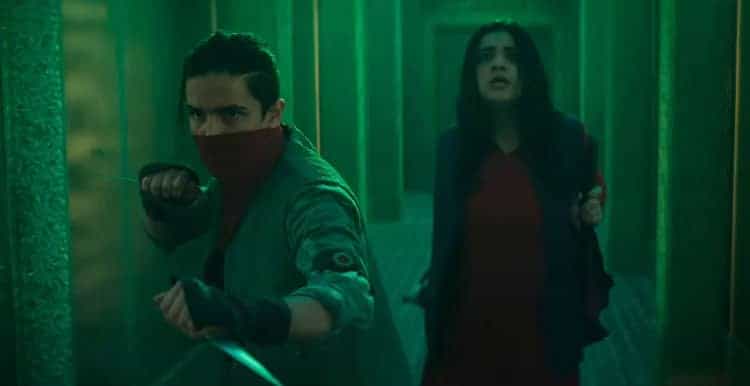 The next day in Ms. Marvel episode 4, Kamala returns to the Red Dagger headquarters and begins her training. Waleed walks her through using her amazing problems and gives her a fabric that'll remind her she's not alone. Kamala is excited at finally becoming a Red Dagger.
Just then, the Red Daggers are attacked by Najima and the Clandestine. A fight breaks out amid smoke. Kamala, Kareem, and Waleed escape the headquarters and a car chase ensues through the cramped city streets, leading to slamming into street vendors.
During the chase, Kamala starts using her powers to create a ramp and make the pursuing Clandestine crash their hijacked truck. It works but they're still being chased. Kamala and Kareem flee on a motorcycle and then on foot with Waleed attempting to throw them off.
With Kamala, Kareem, and Waleed splitting up, Kamala hijacks a truck to escape. She manages to hit a Clandestine during her pursuit. Kareem then catches up with her and they continue running through alleys.
The chase proceeds to higher heights. As Waleed attempts to save Kamala, he is murdered by one of the Clandestine. Kareem rescues Kamala and they make their escape after an explosion throws off the pursuers.
Kamala and Kareem arrive at a dead-end of merchants. The two prepare to fight off the Clandestine together. Kamala uses her powers and Kareem his daggers. Najima manages to stab Kamala's bangle and another vision occurs.
Kamala's mind travels back to the time of a train carrying refugees during the British colonization. It is there that she witnesses the stories she has been told time and time again of a desperate flee from oppression. She watches as the overcrowded trains pull out of the station.
Ms. Marvel episode 4 is now streaming on Disney+.