When the long-awaited Mortal Kombat trailer was released, fans went crazy over the Scorpion versus Sub-Zero scene. Seeing the franchise's most memorable characters in live action once again was pretty amazing. As fans, we're familiar with both fighters signature powers and weapons.
Mortal Kombat director, Simon McQuoid, spoke with IGN and explained the evolution of Scorpion's iconic weapon and dissected some key elements from the trailer. He spoke in detail how Hanzo Hasashi will become his warrior persona, Scorpion, and also the origin of his famous retractable spear weapon.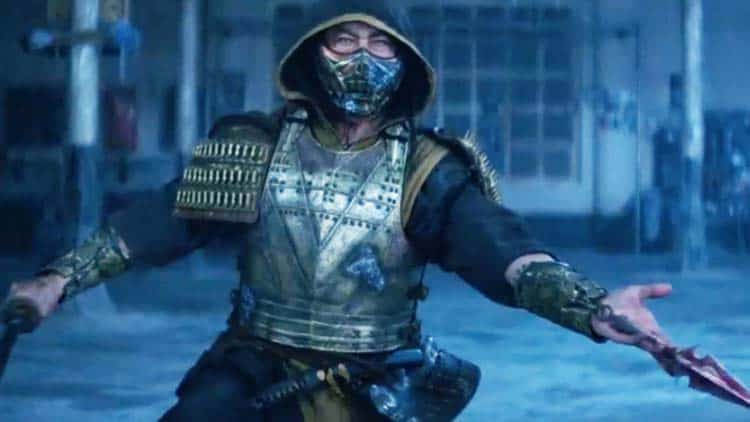 "We did a bit of research into what a kunai actually is, and it was originally, not exclusively, but it was often used as a gardening tool in 14th century, Japan," he said. The director explained how the weapon was created in a deadly moment of improvisation, saying, "That's why [Scorpion] has the kunai on the end of that rope, because that's all he has at the time. You'll see how he sort of adapts and turns that rope and that gardening tool into a pretty lethal weapon that really does the job."
His Scorpion persona and his deadly weapon both shared humble beginnings. Hasashi first used his upgraded kunai against the Lin Kuei, Bi-Han's aka Sub-Zero's clan, who attacked his Shirai Ryu village.
"It's really about seeing [Scorpion's] evolution on the screen and the ingredients, both emotional and physical as to why he becomes Scorpion. And so that is explained across the opening of our film. And it's a pretty brutal, nasty fight," said McQuoid about the encounter.
Mortal Kombat's plot will circle around Scorpion and Sub-Zero's iconic rivalry.
Though we will see fantasy and epic superhuman battles between fire and ice, McQuoid also wanted the drama of the fight scenes to also feel real. He continued to say, "I wanted it to feel real and I wanted to feel very elemental, not silly or too shiny. It's always got to have some mongrel about it, so it feels completely real and believable."
The upcoming Mortal Kombat reboot film is directed by Simon McQuoid and produced by James Wan (The Conjuring trilogy and Aquaman). It stars Lewis Tan as Cole Young, Joe Taslim as Bi-Han and Sub-Zero, Hiroyuki Sanada as Hanzo Hasashi and Scorpion, Jessica McNamee as Sonya Blade, Josh Lawson as Kano, Tadanobu Asano as Lord Raiden, Mehcad Brooks as Jackson "Jax" Bridges, Ludi Lin as Liu Kang, Chin Han as Shang Tsung, Max Huang as Kung Lao, Sisi Stringer as Mileena, Matilda Kimber as Emily Young and Laura Brent as Allison Young.
The film premieres in theaters and on HBO Max April 16. Check out the Mortal Kombat trailer here.