Filmed and set in Los Angeles during the ongoing pandemic, Songbird takes us four years into the lockdown. The Michael Bay produced pandemic thriller unleashed its first trailer right before Halloween.
Four years have past since the start of COVID-19. The mutated virus, now known as COVID-23, keeps the world in pandemic lockdown forcing infected Americans into mandatory quarantine camps called Q-Zones. It is unknown as to how long they need to stay inside the camps, but one thing is for sure. There is no escape.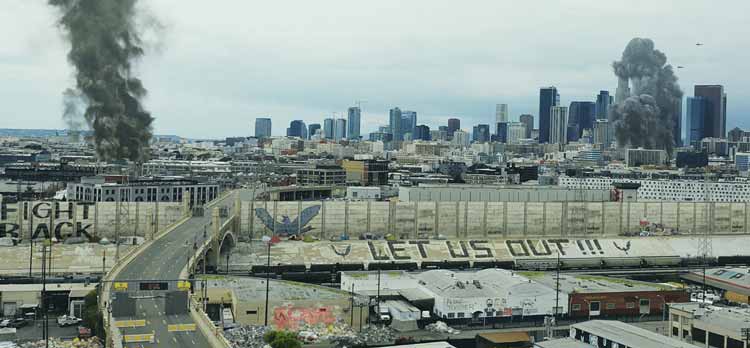 A few brave souls attempt to fight back against the oppressing forces in this dystopian landscape. A courier immune to the deadly virus, Nico (K.J. Apa), finds and falls for Sara (Sofia Carson). She's in lockdown and prohibited from physical contact.
When Sara is presumed to be infected, Nico risks his life for her rushing through Los Angeles's barren streets. He needs to reach Sara before the authorities responsible for the pandemic quarantine camps snatch her from her home.
The Michael Bay-produced Songbird is the first feature film to be made during COVID-19 in Los Angeles.
The premise starts with the current coronavirus pandemic itself. Along with Apa and Carson, it also stars Bradley Whitford and Demi Moore. They play an affluent couple who seem to hold the key to Nico's mission. Alexandra Daddario plays a musician caught up in a messy affair. Paul Walter Hauser plays a disabled veteran. Craig Robinson plays Nico's boss. Peter Stomare plays the corrupt head of the city's department that seizes the infected from their homes and transport them to Q-zones.
Adam Mason co-wrote and directed coronavirus thriller while Michael Bay serves as producer. Songbird is set to debut in theaters sometime in 2021. Check out the trailer below:


Featured Image: STX Films
Source: STX Films

ADVERTISEMENT
---
This post has affiliate links, which means we may earn advertising money if you buy something. This doesn't cost you anything extra, we just have to give you the heads up for legal reasons. Click away!