Will Simu Lu Be Part of Spider-Man: Homecoming?
The trailer for Shang-Chi and the Legend of the Ten Rings just dropped and already has revealed MCU Easter Eggs. Fans speculate Shang-Chi (Simu Liu) may fit directly within the Marvel Cinematic Universe – more specifically, within Spider-Man: Homecoming.
Shang-Chi's film isn't set to hit theaters until later this year, after Cate Shortland's Black Widow debut in July. But a surprise trailer for Shang-Chi dropped earlier this week, giving fans just enough time to speculate and ask for more. Twitter follower, Leah Marilla Thomas, screenshots a specific moment from the trailer, where one of the characters can be seen riding a bus. There are many other faces in the background, but most of them are blurry and hard to focus on.
MCU Easter Eggs Hint More Surprises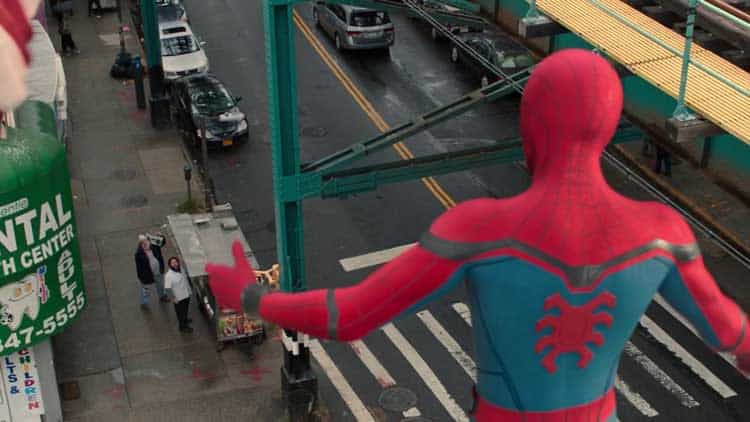 However, Thomas highlights one of these background characters, asking followers and other fans the fatal question: "Is that Zach Cherry?" For those who don't remember, Zach Cherry is the scruffy, glasses-wearing, beard-sporting actor who portrayed a guy at a hot dog stand in the first act of Spider-Man: Homecoming. He's also the guy who asks Spidey to do a backflip and cheers after he performs the stunt. Cherry doesn't play that important of a character in the movie and is only featured for about 30 seconds. Even still, his appearance is unmistakable. Thomas is right to question whether it is him on the bus in the Shang-Chi trailer.
Where Is Shang-Chi and The Legend of The Ten Rings filmed?
Of course, this does not guarantee that Shang-Chi is for sure part of the MCU. It is unclear whether we will be given more hints before the full movie is released, either. The Shang-Chi footage looks like it takes place in San Francisco, where a presumed bus crash scene is about to commence. But as San Francisco is 3,000 miles from New York City, it is unlikely that Cherry is playing the same hot dog stand guy as in Homecoming. One thing is for certain, though: Zach Cherry sure loves to show up in Marvel movies.
When Does Shang-Chi Hit Theaters?
Shang-Chi and the Legend of the Ten Rings will officially hit theaters on September 3, 2021. It is the first-ever Asian-led Marvel movie that features a talented cast like Sima Liu, Awkwafina, Tony Chiu-Wai Leung, Michelle Yeoh, Ronnie Chieng, and Florian Munteanu. Directed by Destin Daniel Cretton, it's shaping up to be a kung-fu classic!