In the season finale of Loki, it seemed as though both Loki (Tom Hiddleston) and Sylvie (Sophia Di Martino) have accomplished their mission. They were successfully able to enchant the matter-consuming monster Alioth and open a portal into the Citadel at the End of Time. They now venture inside the mysterious kingdom that harbors a flowing timeline and a dark castle. When they enter the citadel, they are greeted by the hologram program of Miss Minutes. In the season finale, Loki and Sylvie ask who is really behind the TVA and Miss Minutes reveals it is an individual who goes by the title He Who Remains.
Loki Season Finale Spoilers Below
Though the duo has not yet met this figure, Miss Minutes informs that the creator is ready to make them an offer. He Who Remains has stated that he can send Loki and Sylvie to any part of the timeline they want, including a universe where Loki could beat the Avengers, kill Thanos, control Asgard, and wield the Infinity Gauntlet.
Suspicious of such an offer, Loki and Sylvie refuse, hellbent on making sure they murder the controller of the TVA bureaucracy. Miss Minutes tells them good luck as she zips away, leaving Loki and Sylvie to continue their journey in the season finale.
Back at the TVA, Renslayer's (Gugu Mbatha-Raw) TemPad has finished downloading the information she was seeking. Miss Minutes informs Renslayer that she didn't get her all the information she wanted but what He Who Remains will allow her to have.
Mobius Returns To The TVA
Loki episode 6 continues with Mobius (Owen Wilson) arriving in Renslayers office and informs her that the jig is up. He has been able to prove to the others working within the TVA that they are all variants. This is shown when time agents are led by B-15 (Wunmi Mosaku) to a timeline before Renslayer was captured.
Mobius tries to subdue Renslayer, but she stops him. Renslayer forgoes deciding to prune Mobius and decides to venture off on her own. She proceeds through a portal to a destination where she hopes to find the concept of free will. We don't see her again in episode 6.
Back at the Citadel at the End of Time, Loki and Sylvie finally meet He Who Remains. He reveals himself to be a scientist from the 31st century that observed a war of the different timelines. The only way to stop it was to create a stuffy bureaucracy as the TVA.
Loki and Sylvie ask what He Who Remains plans to do now and he states that he is now leaving it up to the two of them to decide what will happen next. He Who Remains only knows how everything is going to play out right up until this very moment.
He Who Remains gives them a choice: either they can take over his job as the controller of time or they can kill him which may result in another variant of himself coming about to start the process all over again.
Loki isn't sure killing He Who Remains is a good idea and this brews distrust between Loki and Sylvie. They engage in a showdown for the sake of who will decide what to do at such a crucial point in time. Loki tries to stress during the fight that he doesn't want to kill Sylvie.
Sylvie's Actions Paves The Way for Kang the Conqueror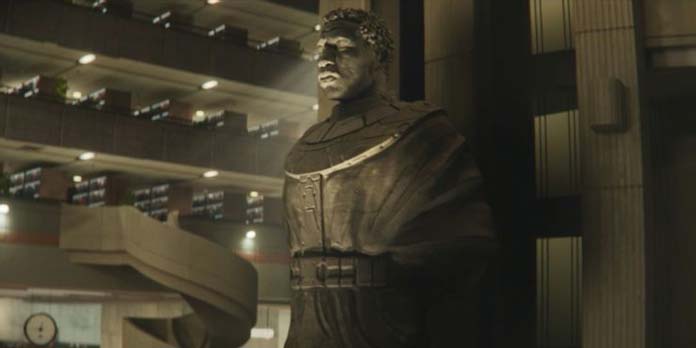 Unwilling to work with him anymore, Sylvie opens a portal to the TVA and shoves Loki through it. Alone with her weapon, she takes this time to kill He Who Remains. Her murder brings about chaos to the timeline as the straight line starts splintering off into new branches. He Who Remains last words were "See you soon," hinting at the arrival of a much more dangerous variant of himself.
Now stranded at the TVA, Loki finds B-15 and Mobius down in the archives. He hopes they can help the current situation, but Mobius does not recognize Loki. Confused as to what is going on, Loki turns to observe the statues of the Time-Keepers. Only one is present: Kang, a variant.
During the Loki season finale mid-credit scene, a stamp on a document confirms that Loki will return for a second season. You can watch the complete first season on Loki on Disney+.