When we last left the time vigilantes of Loki and Sylvie, they were stranded on the planet Lementis-1, doomed to experience the apocalypse of the planet with no means of escape. During this time, Sylvie not only delivered Loki the juicy info about everybody in the TVA being a time Variant, but also became more open. In Loki episode 4, fans find out the big lie the TVA has been hiding.
Loki Episode 4 Spoilers Below:
Sylvie finally reveals more about her history and how she was abducted by the TVA at a young age. Having been removed from her own timeline, Sylvie has been on the run for quite some time, trying to evade and eventually topple the fascistic nature of the TVA.
As their demise looms, Loki finds himself smitten with Sylvie and struggling to confess his love for this woman. That love, as it turns out, is what saves them. Loki's touch and stumbling of words with this female version of himself from another timeline cause a spike in timeline activity that instantly attracts the TVA. They swoop in and take both criminals back into their custody.
Prior to their arrival, Mobius checks in with his boss Renslayer who informs him about the death of Hunter C-20, her illness reasoned a result of Sylvie's mind-tampering. With Loki back in his custody, Mobius continues his interviewing with the god of mischief and still finds himself untrustworthy of such a figure.
Loki's refusal to rat on Sylvie not only makes Mobius cackle at Loki's love interest but makes him not buy Loki's bombshell news about the TVA employing mind-wiped Variants. Not buying his story, Mobius chucks Loki into a time-loop where he is constantly taunted by the scolding of Sif for a past mistake.
Mobius, despite not fully trusting Loki, is still suspicious of the TVA. He's not the only one as Hunter B-15, another Sylvie-enchanted TVA agent, also knows the truth but isn't sure how to process it. Mobius checks in with Renslayer to see if he can question Sylvie but his request is refused. Furthermore, his questioning of C-20's demise is also not given answers.
Meanwhile, B-15 confronts Sylvie in private and demands that she show her more of her past life to know the truth. Sylvie does just that and the TVA agent tearfully learns the truth of the life she once had. B-15 departs and leaves Sylvie in her cell to keep the truth quiet for now.
Mobius Becomes Suspicious About The TVA
Realizing something bigger is going on, Mobius secretly swaps his TemPad with Renslayer to see what secrets she has been harboring him. To his shock, he finds a video of C-20 confessing she knows the truth about everybody in the TVA being a Variant. Horrified, Mobius moves quickly to work alongside Loki to take down his manipulative higher-ups.
Unfortunately, Renslayer is on to Mobius and corners him and Loki the moment they leave his cell. Mobius tries to play off his stealing of the TemPad but it's no use; they're onto him.
Realizing his time is up, Mobius spits out the truth, how he's been lied to, and his desire for a different life where his dream of having a jet ski was more than just a dream. Renslayer then orders Mobius to be terminated and a Hunter swiftly evaporates him as Loki watches in terror.
Renslayer visits Sylvie in her cell and realizes B-15 has been there. With the threat of the Variant truth spreading around the TVA, Renslayer quickly moves up the execution of Loki and Sylvie by the Timekeepers. The two are led down to the chambers of the three sentient Timekeepers for their punishment.
On the ride down, Sylvie questions Renslayer why she specifically had to be removed from her timeline as a child. Renslayer doesn't say, being unquestioning of her orders and taking a certain sinister glee.
Loki and Sylvie meet the "Time Keepers"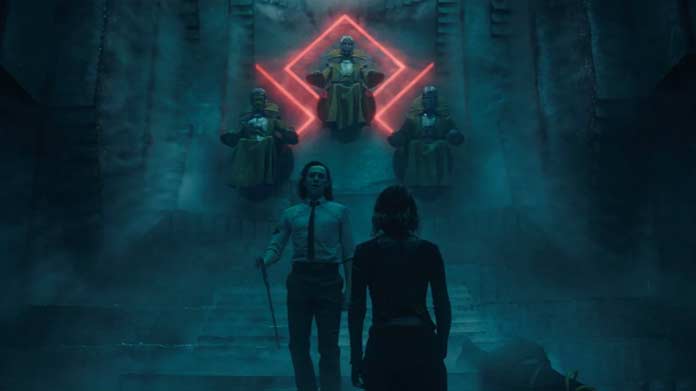 Loki and Sylvie are led up to the court of the Timekeepers by Renslayer and a squad of Hunters. The Timekeepers, speaking as inhuman beings, ready their judgment. But before the sentencing can be carried out, B-15 arrives to turn off the time-restriction collars on Loki and Sylvie. Unrestrained, the duo takes to battling the Hunters with Sylvie specifically targetting Renslayer.
With the Hunters subdued, Sylvie wastes no time in decapitating one of the Timekeepers. To her dismay, she learns that the Timekeepers are mere robots. Unsure of how to proceed next, Loki tries to work up the courage to confess his love. His declaration is interrupted, however, when a wounded Renslayer slays Loki with her Variant wiping wand, causing him to evaporate into nothing. Angered, Sylvie once more gets the drop on Renslayer, demanding that she reveal what's really going on with the TVA.
Variants in Loki Episode 4 Mid-Credit Scene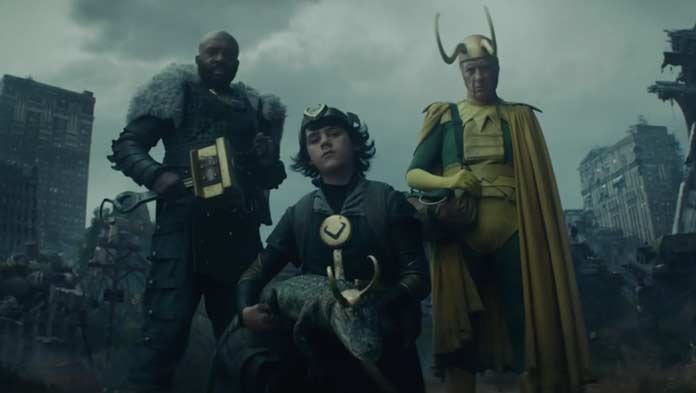 In Loki episode 4's mid-credit scene, Loki is revealed to be alive. He awakens in what he thinks is Hel (afterlife in Norse mythology), but is created by the most unlikely of people: a collective of Lokis from other timelines in various forms. Catch all four episodes of Marvel's Loki now with the last 2 episodes premiering Wednesdays on Disney+.