The Walking Dead's Final Season Part 2 premieres Feb. 20, and when it does, a familiar face will back among the group. A new image released by the show confirms that Lauren Ridloff will be back as Connie.
Of course, things weren't always so certain for the character. Last year, Connie went MIA after being trapped in a cave-in set off by Alpha and the Whisperers. While Daryl (Norman Reedus) and the Alexandria crew didn't know her fate, it was revealed to viewers that Virgil (Kevin Carroll) had found her and taken Connie to safety.
Towards the end of Part 1 of The Walking Dead's final season, Connie was found by her sister Kelly (Angel Theory) and returned to Alexandria. However, her arrival came just as the community came under attack by walkers during a violent storm and we were again left not knowing her fate.
First Image of Lauren Ridloff as Connie in The Walking Dead Season 11 Part 2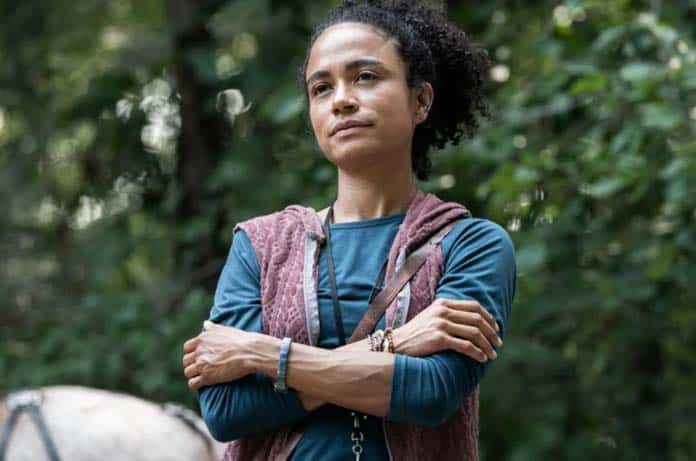 "It was so great to have Lauren Ridloff back finally," The Walking Dead's showrunner Angela Kang said on The Walking Dead: Episode Insider. "We've been planning for a long time to bring her back in, and we'd sort of shaped the story and wanted to give her a big re-entry into the show."
The storyline came about because Ridloff was cast in the Marvel Cinematic Universe's Eternals, playing speedy superhero Makkari, and the show worked around her schedule.
In Part 2 of The Walking Dead season 11, the actress hints that Connie may not be the same person she was before entering that cave due to the events that followed.
"One thing that is quite clear is that Connie has changed," Ridloff told Decider during an interview last year. "So I do think that Connie now has some PTSD that she's dealing with, and she needs to deal with that first and how that actually affects her and her relationships, whether it be with Daryl or her reentering into that community again. So only time will tell."
Fans are clamoring for a reunion between Daryl and Connie, as the two seemed headed on a romance. But with Leah (Lynn Collins) now in the picture, and spurned by her former love, will Lauren Ridloff's Connie be one of her targets? Stay tuned!