There's the debate between Thor and Hulk as the strongest Avenger, but there is no debate on the keenest-eyed Avenger. Yes. That would be arrow guy himself, Clint Barton or better known as Hawkeye. And thanks to Jeremy Renner posting a set photo on Wednesday, it looks like the Disney+ show started shooting.
Renner confirmed work started on the Hawkeye show by tweeting a photo of Clint Barton's set chair. Renner even teased his soon to be female counterpart, Kate Bishop, by captioning the chair photo with "Ms Bishop… we need you!"
Barton's female Hawkeye protege will finally make her MCU debut after months of speculation on who will be playing Kate Bishop. Marvel and Disney haven't officially confirmed the casting, but thanks to social media images, rumors of Bumblebee star Hailee Steinfeld seems to be the next keen-eyed Avenger.
Of course these images are not coming from Disney and Steinfeld shrugged off rumors of her playing Kate Bishop back in March. She even told Variety she "had no idea" who Marvel and Disney were casting for Bishop.
But now with images showing Steinfeld holding a bow and arrow, dressed in purple (sweater and sweatpants?), and with Lucky the Pizza Dog, it's hard to ignore the rumors.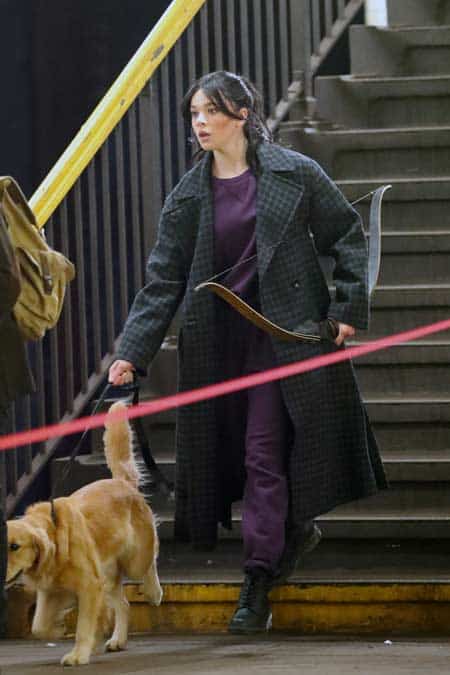 The Hawkeye show with Jeremy Renner reprising his Avenger role and presumably Hailee Steinfeld will debut sometime on Disney+. There's no official release date, yet. It'll join the connected Disney+ and Marvel projects WandaVision, The Falcon and the Winter Soldier, She-Hulk, Loki, Moon Knight, and Ms. Marvel.
Disney is yet to confirm Hailee Steinfeld's casting.


Featured Image: Marvel Studios/Disney
Source: Twitter