New details have risen for Evil Dead Rise. During an interview with AL.com, Bruce Campbell revealed some bloody details about the upcoming fourth film in the Evil Dead franchise. A new hero will take his place to fight Deadites in an urban setting.
Campbell confirmed that his version of Ash Williams, the hero through the first two Evil Dead films and the Starz series Ash vs. Evil Dead, will not be returning and is actually going to be recast. But not as a male hero. This time, a woman will take the place of Campbell's Ash to fight deadites and help her family escape the setting rumored to be a high-rise skyscraper. So we'll be getting some urban deadites. Not small town possessed folks.
"What we're doing now is we're saying, 'Look, this is another Evil Dead movie and that book gets around, a lot of people run into it and it's another story.' The main key with Evil Dead is they're just regular people who are battling what seems to be a very unstoppable evil, and so that's where the horror comes from," Campbell explains. "It's not someone who's skilled. They're not fighting a soldier. They're not fighting a scientist. They're not fighting anybody more than your average neighbor. This one is going to be a similar thing."
Evil Dead Rise director Lee Cronin recently told Bloody Disgusting's The Boo Crew Podcast, "I'm confident I'm going to do something that's both familiar and refreshing. I'm gonna deliver a rollercoaster of horror." He continued saying. "That's what the goal is here. Relentless. Not stopping to explain too much. It needs to be extremely visceral, highly entertaining, properly scary. To push boundaries, that's important as well."
Campbell updated the project saying, "We're honing-in, circling the building now trying to lock in a partner. We have a couple of bidders and we're trying to just find the correct suitor and we have a script written and a director picked. And it's got a very good modern tale. It's a modern-day urban Evil Dead. And we're hoping to do that next year."
Female heroes have emerged in the Evil Dead franchise starting with the 2013 reboot film with Jane Levy. Then there was Dana DeLorenzo (Kelly) in Ash vs. Evil Dead series. And finally, also from the series was Brandy Barr portrayed by Arielle Carver-O'Neill. Brandy, as it turned out, was actually Ash's daughter and became a deadite-slayer.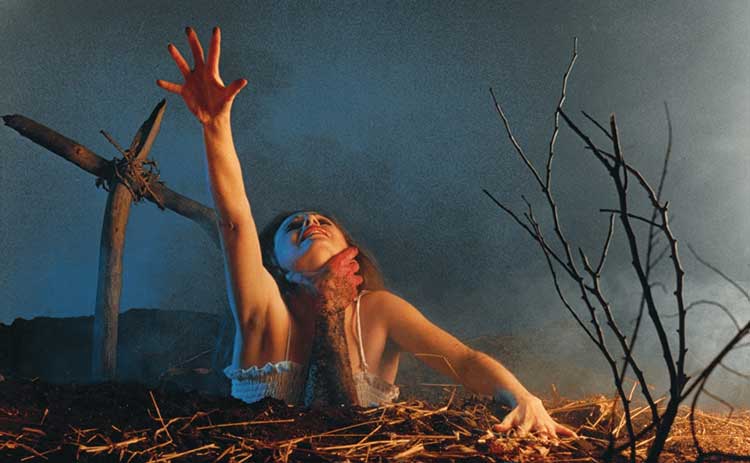 There's no release date for Evil Dead Rise and the cast hasn't been revealed. Though rumors are saying Campbell may have a cameo. Horror movie veteran Sam Raimi and Bruce Campbell will serve as executive producers with Lee Cronin (The Hole In The Ground) directing the film.


Featured Image: New Line Cinema
Source: Bloody Disgusting/AL.com


ADVERTISEMENT
---
This post has affiliate links, which means we may earn advertising money if you buy something. This doesn't cost you anything extra, we just have to give you the heads up for legal reasons. Click away!