Marvel Studios offered a sneak peak of all of the exciting things in store for the MCU's stage four slate of movies, and fans of the upcoming Eternals movie, had their first look at what to expect.
Who Are The Eternals?
The film is an adaptation of the popular team from Marvel comics, a race of immortal beings who lived on Earth and shaped its history and civilizations. Directed by recent Oscar winner Chloé Zhao (Nomadland), Eternals stars Angelina Jolie as Thena, Salma Hayek as Ajak, Richard Madden as Ikaris and Kumail Nanjiani as Kingo. Kit Harington of Game of Thrones fame, is also touted as Dane Whitman, who comic fans know becomes the Black Knight.
While the footage released by Marvel Studios didn't offer much in the way of story or preview any exciting action, it did provide a glimpse of some of the superhero's costumes, showing some of the characters in silhouette against the sunset.
Another scene from the Eternals footage that is sure to elicit some excitement is a group shot of Jolie, Nanjiani, McHugh, Chan, Madden and Lee, though they aren't in costume. Then there's a shot of Hayek riding a horse.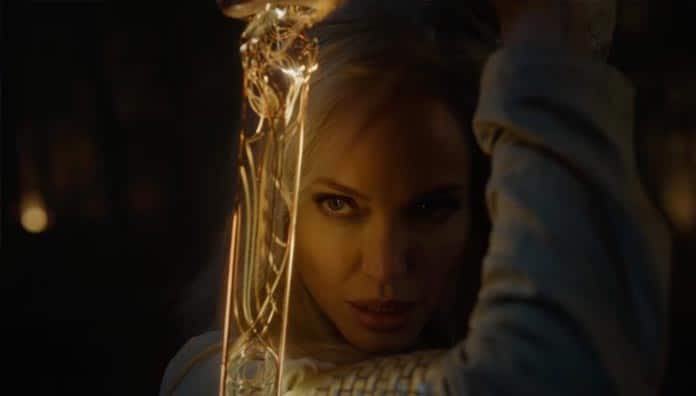 The one piece of the sneak peek that is already causing a stir on social media is Jolie's Thena wielding a glowing sword, providing a quick glimpse at what fans can expect to see in the expected blockbuster.
In addition to supplying this early look at Eternals, Marvel also provided some clips and footage on some of the other movies it has coming out over the course of the next year, including Black Widow this July, Shang-Chi and the Legend of the Ten Rings in September, Sony's Spider-Man: No Way Home in December, Captain Marvel 2, and Black Panther 2.
Fans may have to wait a bit until an official trailer for Eternals comes out, as Marvel Studios usually sticks to a schedule of releasing trailers for new movies about a month apart, and that would put it online for some time in June. One thing's for sure, it will most certainly be filled with action-packed excitement.
Watch Marvel Studios Celebrates the Movies video below: