DC FanDome global fan experience is coming virtually August 22, 2020 starting at 10 a.m. PDT. It's a free, 24-hour event Warner Bros. is offering fans from everywhere bringing the DC Universe to them. It'll feature the stars, filmmakers, and creators behind the biggest films, tv shows, games, and comics. Check out the teaser trailer below.
All the super heroes and super villains will come together to share and celebrate DC's past, present, and future. This virtual event will be accessible for 24 hours on DCFanDome.com and you can sign-up now to get updates leading up to the event. You'll get the opportunity to hear from the casts and creators of feature films and tv series such as: Aquaman, The Batman, Batwoman, Black Adam, Black Lightning, DC Super Hero Girls, DC's Legends of Tomorrow, DC's Stargirl, Doom Patrol, The Flash, Harley Quinn, the SnyderCut of Justice League, Lucifer, Pennyworth, SHAZAM!, The Suicide Squad, Supergirl, Superman & Lois, Teen Titans GO!, Titans, Watchmen, Young Justice: Outsiders and, coming this fall to theaters worldwide, Wonder Woman 1984.
You'll get first hand news on upcoming projects, see exclusive footage, and enter into theme worlds designed to entertain everyone from DC fanatics of movies and comics to gamers, to families and kids.
Check out the DC FAnDome map below.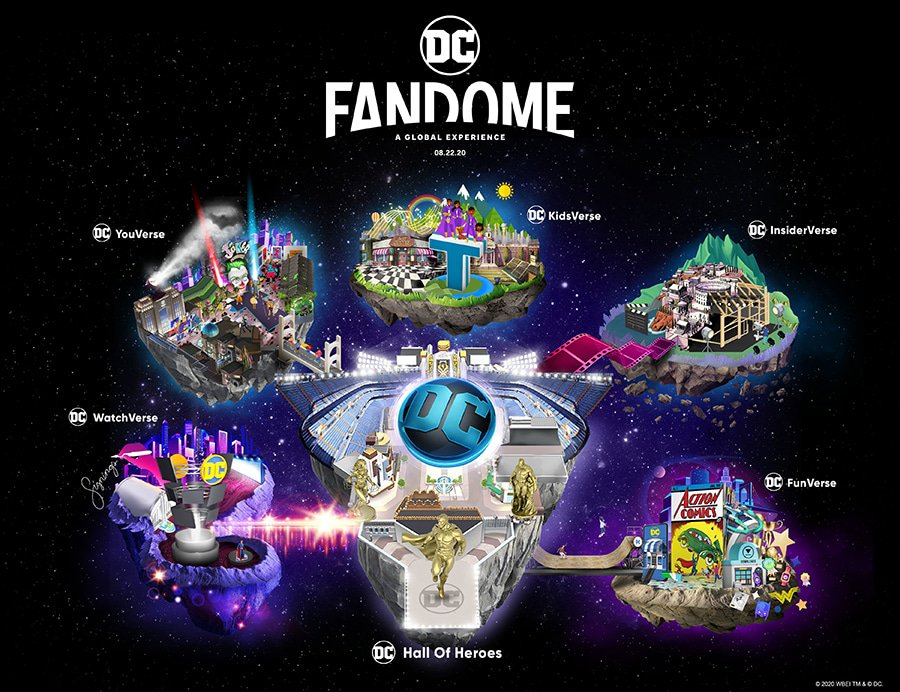 The Hall of Heroes is the center of DC FanDome. From there, you can navigate through the DC Multiverse where you can explore five additional worlds. Here's what will be offered according to the press release (excerpt taken from dccomics.com):
---
DC WatchVerse: Here's where you grab a seat, sit back and join our virtual audience and become completely engrossed in hours of must-see content from around the world. Everything from panels and exclusive screenings to never-before-seen footage, featuring cast, creators and behind-the-scenes crew from across DC Films, TV, Home Entertainment and Games.
DC YouVerse: Venture into this world where the FANS are the stars to see the most amazing user-generated content, cosplay and fan art from around the world, including, perhaps, your own.
DC KidsVerse: Need a way to entertain your kids for hours on end? We've got you covered inside a special world, which can be accessed directly at DCKidsFanDome.com. This area features a broad range of family-friendly activations for our younger fans.
DC InsiderVerse: This creativity-based world contains a centerpiece video featuring legendary artist and DC CCO/Publisher Jim Lee, President of DC-Based Film Production Walter Hamada, and creator of the DC TV Arrowverse, Executive Producer Greg Berlanti, welcoming fans with a 101-style introduction to the DC Multiverse. From there, go behind the scenes with the master artisans who bring DC to life in all its forms, from comic books to games, TV, movies, theme parks, consumer products and more.
DC FunVerse: Take your DC FanDome experience and gather cool shareables; check out our comic book reader; DIY cool WW84 Golden Armor and Batmobile kits; plus digital giveaways and a store filled with merchandise, including some limited-edition exclusives.
---
Fans are even being called to submit their best DC Fan Art and Fandom displays. You can submit art, cosplay, makeup, and even tattoos to create.DCFanDome.com for a chance to be featured inside one of the multiverses on the map. Got a car converted into a Batmobile? Submit a picture!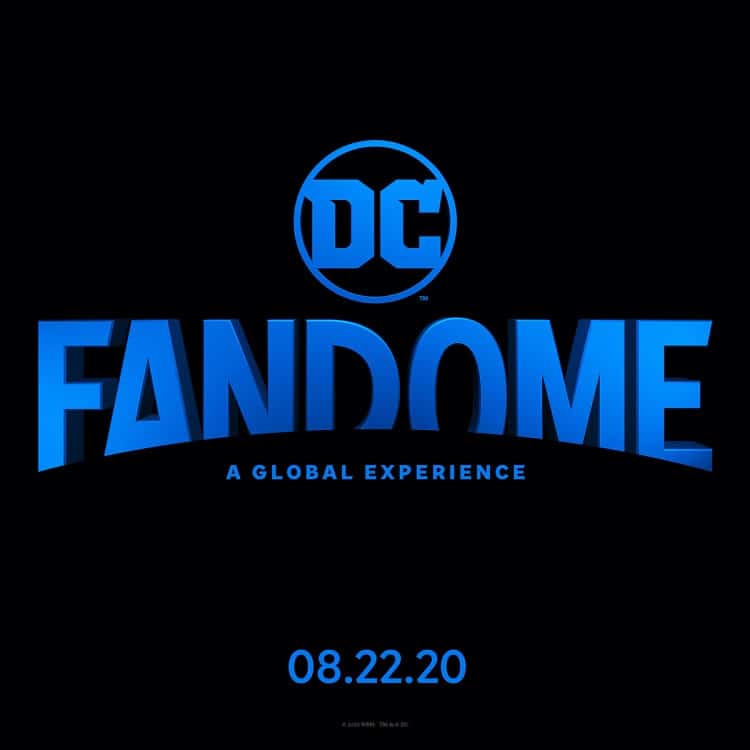 Don't forget to sign up for updates and reminders.
In the world of canceled conventions, are you excited for this virtual event? And don't forget to come back to Popthrill that day. We will have some exclusive products related to the event! See you soon!
Featured Image: DC
Source: DCComics.com
---
This post has affiliate links, which means we may earn advertising money if you buy something. This doesn't cost you anything extra, we just have to give you the heads up for legal reasons. Click away!