After creating something of a cult following on YouTube Red for two seasons, Cobra Kai has become a mega-hit since transferring over to Netflix for Season 3, enjoying some of the largest viewing numbers in the streaming service's history. The show effortlessly combines the nostalgia of the Karate Kid movies with a modern story that is beloved by adults and kids alike.
Ron Thomas, who played bad-boy Cobra Kai member Bobby in the original film, has guested on Cobra Kai a few times, with Johnny's (William Zabka) friend now a Pastor.
In an exclusive interview with Popthrill, Thomas talks about his long-time friendships with Zabka and Martin Kove (John Kreese).
For him, appearing on the show with his long-time friends wasn't so much about reuniting, as it was about getting to enjoy some work with people who have been in his life for decades.
"It's like another Christmas party," he laughed, explaining he's been very close to Zabka, Kove and Tony O'Dell (who played Jimmy in the original movie), even traveling to places like Hawaii and Costa Rica with the latter.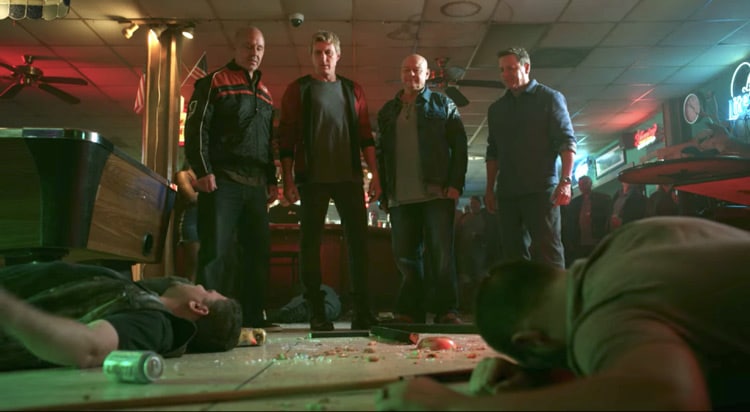 "Billy is one of my best friends and we've been at Christmas parties, weddings, funerals, vacations and we've been doing that for 35-plus years now," Thomas says. "When we get together to work, it just brings back that little extra magic we had when we were doing The Karate Kid. When you're doing what you love to do and doing it with people you love, it's an amazing feeling."
He was first asked to reprise his role as part of a camping trip that Johnny and his former Cobra Kai friends took in Season 2, along with Tommy and Jimmy on a trip that saw Bobby pass away.
"The writers had been planning our reunion for a long time as they were planning this whole Cobra Kai adventure," Thomas says. "They were just waiting for the right time."
Thomas returned for Season 3 and as a pastor, tries to be there for Johnny and offer advice, though it's rarely taken.
While he's held to secrecy and isn't allowed to spill whether we'll see Bobby return for Season 4, considering the increased role he had last year and the fact that Johnny is always in the need of some strong guidance, it's a good bet he'll be popping up again. Plus the fact, the social media response to when the Cobra Kais re-appeared was phenomenal.
"I was having dinner with Billy and we were just talking, and I was like, 'have you gotten your head around what's happening here, because I just can't grasp it,' and he said, 'it's a miracle.'"
Cobra Kai will return on Netflix for Season 4 sometime in 2021.