Marvel Studios and Disney has finalized a deal with Anthony Mackie to continue carrying the shield in his first superhero movie as the lead character for the Captain America 4 film. The studio likes to keep its details well under wraps and no further information has been given. It isn't clear whether the movie will involve onscreen buddy Sebastian Stan, who starred with Mackie in the Emmy-nominated Disney+ limited-series The Falcon and The Winter Soldier.
Anthony Mackie Will Continue To Shine Bright Captain America 4
The unofficial title, Captain America 4, indicates this is Mackie's film, and it's an exceptional moment for his career. The Juilliard-educated actor has shined in every movie he's appeared in like the Best Picture winner The Hurt Locker, 8-Mile, and The Banker. Mackie would continue to shine bright in six MCU movies. His first appearance as Sam Wilson a.k.a. The Falcon, Steve Roger's wingman, in Captain America: The Winter Soldier was well-received.
Mackie's Sam Wilson and Sebastian Stan's Bucky Barnes developed a unique friendship throughout the course of Marvel Studios' Phase Three, leading to their team-up in The Falcon and The Winter Soldier. Throughout the series, Mackie's Sam Wilson was conflicted with accepting the Captain America mantle feeling that it only belonged to Steve Rogers (Chris Evens). Eventually, Wilson accepted his destiny and wielded the shield in his own Captain America suit. It will be interesting where Mackie takes the character in Captain America 4.
Sebastian Stan took the time to congratulate his MCU co-star. Stan is just as excited about Mackie leading the Captain America 4 cast like the rest of the fans.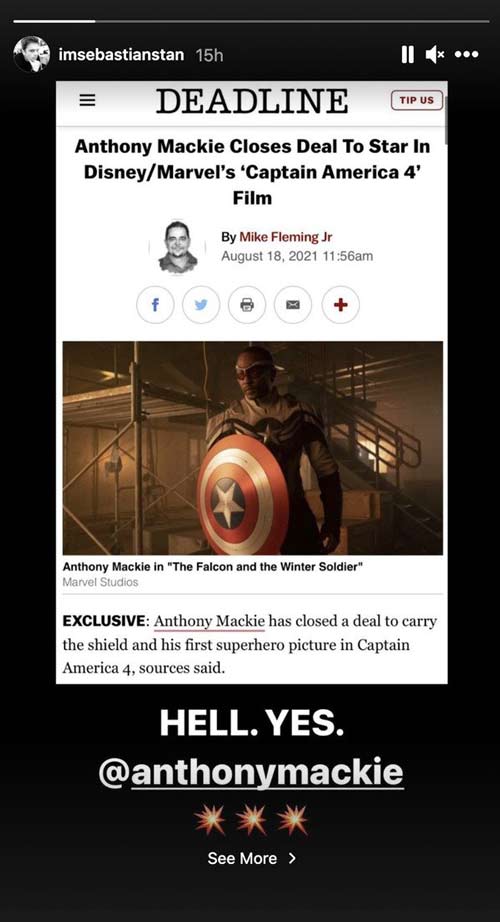 In a previous interview that followed-up the season finale of The Falcon and The Winter Soldier, Mackie had this to say about his possible return as Captain America in a fourth movie of the franchise: "I literally found out yesterday in a grocery store. The checkout guy named Dwayne, a cool cat, he's like, 'Yo, man. Is this real?!' I'm like, 'I haven't heard anything.' That's what I love about working for Marvel. They call you, they're like, 'Come to L.A. We wanna tell you what's going on.' So, I'm excited to see what happens, but I haven't heard anything."
"What would be really bad is if the movie Captain America 4 starts and I get blown out of the sky," he added. Fortunately, he doesn't have to worry about that anymore.
Captain America 4 is being scripted by The Falcon and The Winter Soldier head writer and creator Malcolm Spellman, as well as series staff writer Dalan Musson. No director or release date is attached to the film at this time.