This past week gave Marvel fans some big news. Particularly, Deadpool fans. Disney reportedly is moving forward with Deadpool 3 with Ryan Reynolds reprising his merc with a mouth role. The sister combo writing team for Bob's Burgers, Wendy Molyneaux and Lizzie Molyneaux-Loeglin, were hired to write the third film in the franchise. And in the spirit of good fun, artist BossLogic created a Deadpool 3 movie poster.
A third film was in question ever since Disney merged with 20th Century Fox. One reason for that is the franchise isn't all that family-friendly like the other Marvel movies under Disney ownership. However, reports say that Disney will keep the R-rating that made the first two movies so unique and hilarious.
There are no details regarding the Deadpool 3 storyline, but fans are hoping for Hugh Jackman's Wolverine to appear. It's unlikely that will happen even with Ryan Reynolds constant pushing for Jackman to return.
While all fans hope for this duo to happen, BossLogic created a concept Deadpool 3 poster this week teasing Wolverine's return and posted it on Instagram. Check it out below.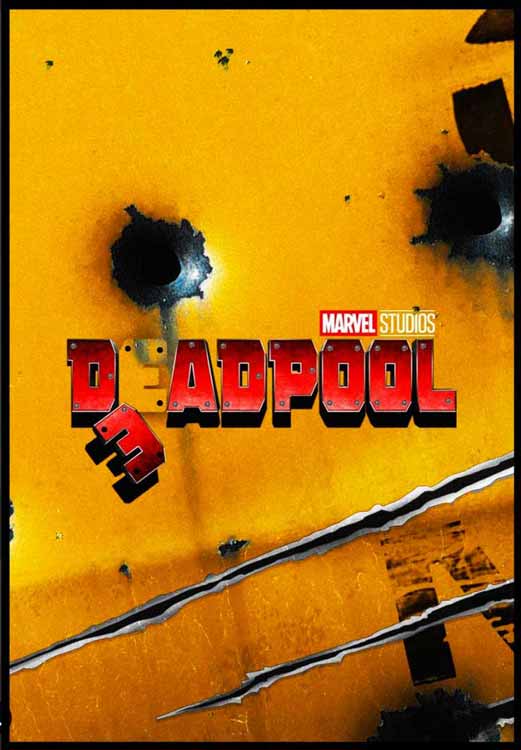 Image Credit: BossLogic
"D3ADPOOL!," BossLogic captioned. It's a clever play on the letter E falling upside down looking like a number 3 with three claw marks representing Wolverine.
Reynolds may still get his wish even if Jackman doesn't appear in the third Deadpool movie. There will be new MCU X-Men casting. However, Deadpool 3 will happen before any X-Men casting decisions are announced.
Reynolds and Jackman's longstanding friendly feud continues with their promotions of their respective beverage companies to support a good cause. Recently, the two took their competition to a Sam's Club promoting Reynolds's Aviation Gin and Jackman's Laughing Man Coffee.
Would you like to see Hugh Jackman appear as Wolverine in Deadpool 3? Let us know in the comment section below.