It's pretty certain that all BLACKPINK fans out there with Netflix streaming service have already seen the "Light Up The Sky" documentary about the popular K-pop group.
ICYMI: Netflix's BLACKPINK Light Up The Sky Touches on Success and Sacrifices.
Released over a month ago, Light Up The Sky highlights the group's successes. With success also comes sacrifices the members had to make. Formed in 2016, the K-pop group has reached global stardom today. Their documentary directed by Caroline Suh, builds towards their anticipated and triumphant Coachella performance in 2019. The first K-pop group to ever perform at one of the largest musical festivals.
The stars of Blackpink, which includes Jisoo, Jennie, Rosé, and Lisa, express their enthusiasm for performing. When they share the more human side of who they are and let their guard down a bit, that's when the documentary grows more personal. Suh touches on the cost of fame – what each member missed in their younger lives and the rigorous training.
While introducing each member individually and all together, the documentary gives a look on certain tradeoffs to achieve this success. YG Entertainment brings out talent. In doing so, a strict training program and audition videos require months of work. Contenders get one day off every two weeks.
Once the ladies invite Suh in, the documentary sets off to show "Blinks" (avid Blackpink fans) and casual fans the warm moments like the group reminiscing while watching older videos of their younger selves. The group hits up the studio with mentor Teddy Park. A former K-pop star turned producer sits for one-on-one interviews, which leads to more unguarded moments. Suh shares moments like going with Jisoo to visit her makeup artist and Jennie's pilates session. But the the most effective moments are the interviews. Each member opening up and sharing their stories with footage of home videos and early competitions.
"A lot of people make memories as a high-school student," Jennie says. "But I never had that." The members understand the pressure they face. How do they stay relevant or live up to the hype. "The thing is, you can never tell how long it will last," says Rosé, the Australian-born member.
With hits like "Kill This Love" and a recently released album, it seems there is no slowing down the K-pop group. Especially the members are still all in their 20s.
Light Up the Sky may be another marketing tool with charm and talent to introduce the group to the rest of the pop-culture world who aren't Blinks. But one (if not the only) of the documentary's message is that it's a reminder that K-pop's top queens got to where they are with sacrifices, dedication and commitment.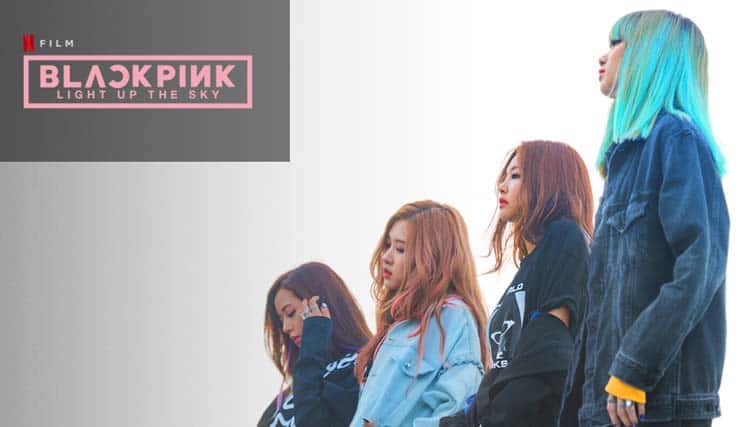 Blackpink: Light Up The Sky is currently streaming on Netflix. It was released October 14th.