Zack Snyder's upcoming zombie movie, Army of the Dead, is on its way to Netflix in 2021. Last month, Deadline reported that the streaming service already ordered a prequel film and an animated series. Fear The Walking Dead's Garret Dillahunt (John Dorie) talked about a very different kind of zombie movie from what he's used to making.
According to Comicbook.com, Dillahunt already filmed his parts last summer in New Mexico. Though most of the movie is still a secret, he did tease what to expect during a breakdown of this past Sunday's Fear TWD episode.
ARTICLE CONTINUES AFTER ADVERTISEMENT
"It's real different," by comparison to Fear the Walking Dead's zombie world, Dillahunt explains. The Walking Dead franchise has walking corpses which move slowly and do not show any signs of thinking about anything other than hunting for fresh flesh to chow down on. "I'm excited to see [Army of the Dead], too," Dillahunt says. "To have different ideas about zombies, which is refreshing, I think, in a lot of ways. And I know I have to keep this so vague, I'm sorry. I don't know when the thing's coming out now. Sometime next year."
The biggest difference is how the zombies move and their speed. "They strayed away from a lot of normal zombie canon, that for some reason, everyone adheres to," Dillahunt says. "You're like, 'Maybe they don't have to be that way. What if they were this way?' 'Oh, that's a nice wrinkle.' The zombies are scary, I'll tell you that. The zombies are really fast and scary."
ARTICLE CONTINUES AFTER ADVERTISEMENT
Army of the Dead won't be the first time we see fast moving zombies. Snyder's reboot of Dawn of the Dead, 28 Days Later and 28 Weeks Later, the Korean hit Train to Busan and others have featured the rabid and quick zombie.
Apparently, Dillahunt is just used to the slow, mindless undead walkers from the The Walking Dead universe.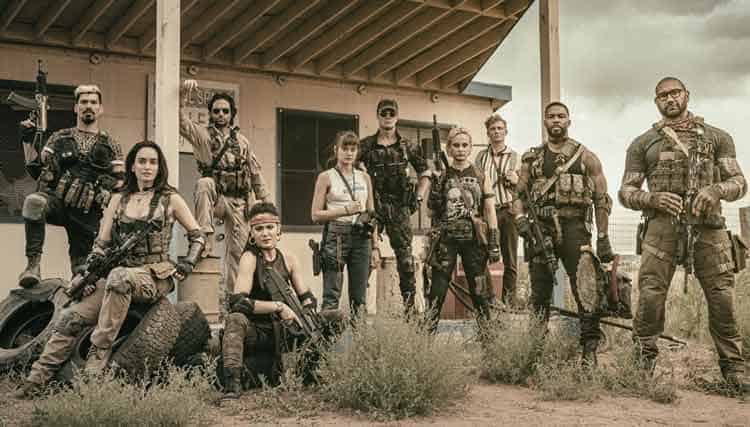 ARTICLE CONTINUES AFTER ADVERTISEMENT
Garret Dillahunt joins Dave Bautista and Omari Hardwick. Army of the Dead is set to debut sometime in 2021. There's no official release date yet, but it has wrapped production.


Featured Image: AMC
Source: Comicbook.com
ADVERTISEMENT
---
This post has affiliate links, which means we may earn advertising money if you buy something. This doesn't cost you anything extra, we just have to give you the heads up for legal reasons. Click away!